'The Last Jedi' director Rian Johnson: It's a "mistake" to pander to fans 
On the eve of 'The Rise of Skywalker,' Johnson opened up on what it means to be a fan and a storyteller.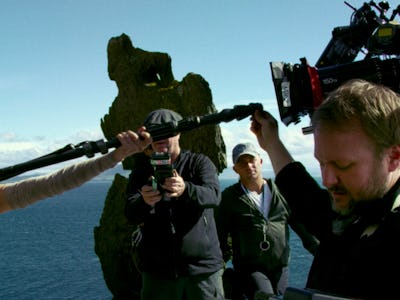 Lucasfilm
In a new podcast interview with eerily uncanny timing, Star Wars: The Last Jedi director Rian Johnson opened up about the nature of fandom. In short, the filmmaker finds that purposefully crafting a story within a larger mythology for the sole purpose of making fans happy, is a "mistake."
We wonder what he could be talking about?
In a December 13 interview on Swings & Mrs., a sports and pop culture podcasted hosted by retired baseball player Cody Decker and his wife, AEW interviewer Jennifer Decker, Rian Johnson talked about his career in films, spanning movies like 2012's Looper and 2019's buzzed-about whodunnit, Knives Out. Naturally, the conversation soon turned to The Last Jedi, the 2017 Star Wars movie that, like it or not, upended expectations of a Star Wars movie.
In the conversation, the hosts discuss with Johnson the overall phenomenon of fandom, fan theories, and why some people expect these theories to pan out as canon, taken as shorthand validation that fans are always right.
"I think approaching any creative process with [making fans happy] would be a mistake that would lead to probably the exact opposite result," Johnson said. 
He added, "Even my experience as a fan, you know if I'm coming into something, even if it's something that I think I want, if I see exactly what I think I want on the screen, it's like 'Oh, okay.' It might make me smile and make me feel neutral about the thing and I won't really think about it afterwards, but that's not really going to satisfy me."
Johnson further notes that there is no such thing as a perfect Star Wars movie that will satisfy every fan.
"Everybody has a different idea for it," he said. "There is a different consensus. It's a trap for any kind of story, especially a Star Wars story, that you can somehow take a consensus of what everybody wants. Because you'll just make a bad movie if you do that. Not because what everybody wants is bad, but because no one wants the same thing."
The recording and release of Johnson's opinions is oddly, if also perfectly timed as mixed reviews for Star Wars: The Rise of Skywalker are now going live on the internet. The most negative reviews can be found from outlets like Collider, Vox, Forbes, Uproxx, io9, and The Atlantic, all reviews that collectively illustrate a movie unwilling to push creative boundaries.
"The Rise of Skywalker falls somewhere between an overstuffed fan-service finale and a yawnfest," writes Alissa Wilkonson of Vox. "If The Force Awakens kicked off a new cycle in the franchise and The Last Jedi set it up to push beyond its familiar patterns, The Rise of Skywalker for the most part runs screaming in the other direction."
Wrote Uproxx's Mike Ryan: "There were times it felt like The Rise of Skywalker was put together by reading angry reddit boards, just throwing in anything a fan might possibly want to see. It really is baffling."
Forbes' Scott Mendelson was perhaps the most damning, writing that The Rise of Skywalker was designed for stunted adults unable to cope with the existence of a new generation of children that Star Wars should be made for, but remains beholden to aging men in their thirties and forties:
It's not just that Rise of Skywalker undoes Last Jedi's "it's not your franchise anymore" metaphors aimed at a generation that grew up loving Star Wars and then allowed two Palpatine-ish leaders (W. Bush and Trump) to come into power for a generic 'don't worry, Star Wars is still the best!' fan bait. It's that this express purpose is the only real reason this movie exists … one cannot escape the fact that Rise of Skywalker has turned this entire new Star Wars trilogy from a kids franchise into one aimed at nostalgic adults yearning for a time when they believed they were the most important generation.
Our own Jake Kleinman is mildly more forgiving, and just barely: "[T]here's simply too much ground to cover and too many characters with too little spotlight. There's enough material here for a new trilogy, but cramming it into one movie results something half-baked and a little forgettable."
The Rise of Skywalker, which I've yet to see for myself, is coming off like a movie designed by committee, one studio executives hope will ward off the reactions that surrounded 2017's The Last Jedi (a movie I really liked).
As a storyteller, Johnson's film asked pointed questions about mythology, poking and prodding at things we take for granted (What is the Force, really?) and imbuing the story with panache reminiscent of a mid-century samurai epic. And I got the sense Johnson was trying to push boundaries as a fan, wanting his favorite stories to grow and evolve.
Which is why I find Johnson's further explanations on his own identity as a Star Wars fan on Swings & Mrs. so compelling — his fandom is what encouraged him to try something new and unexpected.
"At the same time, that exact thing [fandom] that would lend that weight [of pressure], that you have a deep personal connection to it, is also what takes the weight off," he said. "I think it's the necessary ingredient for something like this. You have to deeply, deeply love it and care about it and honor it and want to do right by it. It weighs on you and also takes the weight off and makes you able to do it the way you need to engage with it."
When the host Cody Decker tells Johnson that he went into The Last Jedi with his own theories and still came away surprised, Johnson told him: "Hell yeah, that's what it's about."
Star Wars: The Rise of Skywalker opens in theaters on December 20.