Sebastian Stan reveals his new Winter Soldier costume in public
Stepping from the set of 'The Falcon and the Winter Soldier,' Sebastian Stan gets a cup of joe in new duds.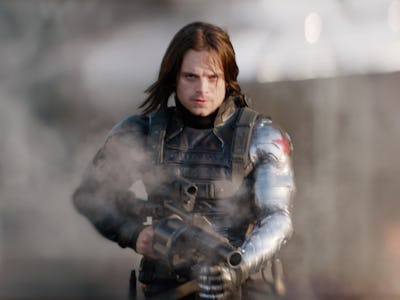 Marvel Entertainment
Aside from the million dollar movie contracts, Marvel movie stars are just like us: They need a hot cup of joe in the morning or else they ain't gonna work. Which is why it's sort of funny to see Sebastian Stan out in public, in full Winter Soldier gear, getting coffee at a coffee bar in Georgia near the set of The Falcon and the Winter Soldier, coming to Disney+ in fall 2020.
On Tuesday, a Marvel fan on Twitter, @yelenatswhore, tweeted a photo, allegedly taken by their music teacher, of Sebastian Stan in his new Winter Soldier costume. In addition to his black and gold Vibranium arm, the Winter Soldier has added a chest harness (reminiscent of his old pal, Captain America) with new dark brown pants and boots.
He's also gotten a long overdue haircut — the pretty boy bob is long gone.
"MY MUSIC TEACHER TOOK THIS PICTURE! HE'S IN SENOIA OHMYGOD," they tweeted. The photo was taken at Senoia Coffee & Café, described by Google as "Relaxed cafe serving American bites for breakfast, lunch and dinner, plus coffee drinks, beer and wine."
Due to the volume of Hollywood productions that shoot in the area, the cafeé is sort of a hotspot for celebrities to get a quick bite amidst shooting. Senoia Coffee & Café even humble brags on its official website: "You never know which celebrity regular you may run into while you are enjoying your favorite specialty coffee or house made special."
But it's one thing to see celebrities just running out to get a latte. It's another thing entirely to see a celebrity getting a latte in full costume, straight from the set of their major superhero production. Is anyone at Disney legal doing okay?
Luckily for Stan, there doesn't appear to be too many spoilers we can guess from the show based on his costume. While Marvel characters frequently get costume tweaks with every appearance, nothing seems to be anything out of the ordinary for the Winter Soldier. His robotic arm seems to be exactly the same Vibranium arm Bucky got in Wakanda for 2018's Avengers: Infinity War, the same arm he was snapped away with and returned wearing in 2019's Avengers: Endgame.
The Falcon and the Winter Soldier, which commenced production in October in the Atlanta, Georgia area, will be the first Marvel series on Disney+. Set after the events of Avengers: Endgame, the show stars Stan and Anthony Mackie (as The Falcon) in a plot that will see them pitted against a government-sanctioned superhero named U.S. Agent and Baron Zemo (Daniel Brühl), who returns from 2016's Captain America: Civil War, this time with his trademark mask.
Other leak set photos and videos reveal the show will span different locations (here's an Instagram video that reveals a portion of Atlanta transformed into New York City's Chinatown) and even time periods; parked cars resembling those of the 1970s were also seen lined up on a street near the set.
The Falcon and the Winter Soldier will begin streaming on Disney+ in fall 2020.