'Falcon and Winter Soldier' set video reveals a very important plot detail
We could be getting a look at another unexplored chapter in the MCU's history.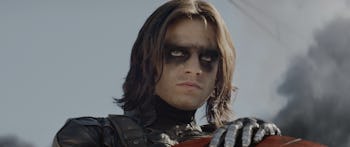 Marvel Entertainment/Perception/Spi/Kobal/Shutterstock
Filming has just begun for the first Disney+ Marvel series, The Falcon and the Winter Soldier, but one user on Reddit who claims to have visited the Atlanta set of the series revealed several vintage cars that suggest a very specific period setting. Given the nature of the Winter Soldier, it's possible the series could explore more of Bucky Barnes' assassinations.
On Reddit, u/brett_cook shared a cell phone video of what they say is the set of The Falcon and the Winter Soldier. (There is no visible proof in the video, such as signs notifying filming usually posted on nearby street lamps and poles.) But taking the redditor at their word, it does seem to explain the peculiar line-up of '70s period cars lined up on the street.
While period-accurate cars by themselves are no a huge deal (though they are quite a big business), their inclusion in Falcon and Winter Soldier suggests the Marvel Cinematic Universe will once again explore corners of unseen history. As fans know from the Winter Soldier's origin story, Bucky Barnes was taken in and brain-washed by HYDRA during World War II to become their feared assassin, the Winter Soldier.
Throughout the decades, Bucky was kept in stasis (therefore never aging), and only woken up when HYDRA needed someone dead. Like Howard Stark.
With Falcon and Winter Soldier possibly exploring the 1970s, part of the series could involve the Winter Soldier's past just as much as it will explore the Falcon's future to become the new Captain America.
What's fun is how purposefully old school the series could feel. Within the Marvel franchise, the Captain America sub-franchise has been Marvel's entryway into evoking genres like old school action-noir.
2011's Captain America: The First Avenger was a classic, punchy pulp adventure given a 21st century budget, while the 2014 sequel Captain America: The Winter Soldier evoked a Nixon-era conspiracy thriller. In fact, in the movie's commentary track, directors Joe and Anthony Russo frequently cited the 1975 thriller Three Days of the Condor as a major influence. On set, they affectionately called their movie, "Three Days of Captain America."
With The Falcon and the Winter Soldier, which will see Falcon (Anthony Mackie) and Bucky (Sebastian Stan) team up in a new adventure set after the events of Avengers: Endgame, it looks like Marvel will return to its old school influences. Just what other dark secrets is Bucky hiding?
The Falcon and the Winter Soldier will begin streaming on Disney+ in 2020.