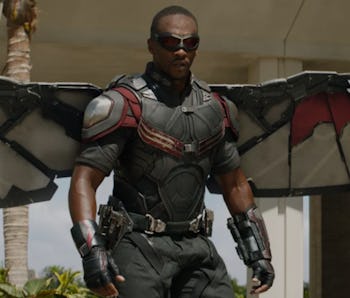 Entertainment
'Falcon and Winter Soldier' set photo leak reveals Cap's evil replacement
Refusing to recognize Sam as Captain America, the government wants to push forward U.S. Agent.
Marvel
This Thanksgiving, your boomer relatives will probably complain that there's too much politics in their football. Well, the Marvel Cinematic Universe may spoof the NFL's regular worship of the U.S. military in the new Disney+ series, The Falcon and the Winter Soldier — if the latest leaked set photos are to be believed.
On Thursday, Marvel movie leaker Charles Murphy shared on his Twitter account set photos of the Atlanta set of The Falcon and the Winter Soldier, which filmed at an unidentified high school football field.
You can see the photos on Imgur.
Based on the only decoration on the field — a new version of Captain America's shield with a sharper, stylized "A" in the center — it's a safe bet the scenes will feature the U.S. government pushing to the public the "new" American superhero, U.S. Agent, played by Wyatt Russell.
And there's no better opportunity to push propaganda than at a football game. Maybe even one played by high schoolers!
Charles Murphy speculated as much, tweeting with the photos: "Looks like the government is doing some major U.S. Agent propaganda at a high school football game in 'THE FALCON AND THE WINTER SOLDIER.'"
The Falcon and the Winter Soldier, slated to premiere on Disney+ at an unknown date in Fall 2020, will follow the Falcon (Anthony Mackie) and the Winter Soldier (Sebastian Stan) in a new adventure set after Avengers: Endgame. Although Steve gave the shield of Captain America to his friend Sam, the U.S. government apparently disputes the Falcon's claim to the mantle. Thus, the government invents U.S. Agent to replace Cap' altogether, but when U.S. Agent becomes compromised by the returning Baron Zemo (Daniel Brühl), it's up to the Falcon and the Winter Soldier to save the day.
When it premieres in 2020, The Falcon and the Winter Soldier will be the first new series set in the MCU on Disney's streaming service. Other shows to follow will be Loki, WandaVision, Hawkeye, Moon Knight, She-Hulk, Ms. Marvel, and the animated series What If…?. Unlike the shows produced for Netflix (Daredevil, Jessica Jones, etc.), the ties to the films will be more pronounced, with storylines and characters connected directly to the movies.
Marvel Studios chairman Kevin Feige has confirmed in multiple interviews that characters featured in the shows will appear in the movies, and vice versa. This means that U.S. Agent could play a huge role in future Avengers movies, but only if he survives Baron Zemo's latest scheme.
The Falcon and the Winter Soldier will stream on Disney+ in 2020.