Why S.W.O.R.D. will be important to 'Captain Marvel 2' and Disney+ shows
Shields out, swords in: A new Marvel era begins when S.W.O.R.D. appears in 'WandaVision.'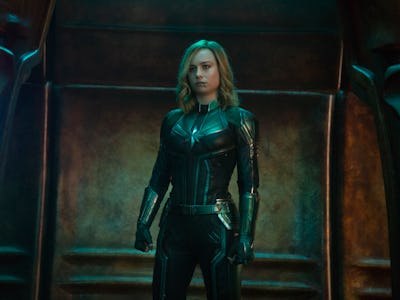 Marvel Entertainment
It's a big year for swords and shields. Besides the newest Pokémon games, the Marvel Cinematic Universe will introduce S.H.I.E.L.D. counterpart S.W.O.R.D., a military intelligence agency specific to alien threats.
The confirmation of S.W.O.R.D. (or Sentient World Observation and Response Department) in the MCU comes from paparazzi site JustJared. On Monday, the site published photos of stars Elizabeth Olsen and Teyonha Parris — set to play an adult Monica Rambeau, who took on the Captain Marvel mantle before Carol Danvers — from the set of the Disney+ series, WandaVision.
👉 Follow all of Inverse's WandaVision coverage at our WandaVision hub.
The actors were seen spotted in front of a building for the show, "guarded" by an actor in military gear branded with the name "S.W.O.R.D." The building's door also bore a S.W.O.R.D. insignia.
Created by Joss Whedon for his run on Astonishing X-Men in the 2000s, S.W.O.R.D. is an agency that functions similarly to S.H.I.E.L.D. in that it investigates unnatural threats to Earth and plans defensive protocols. The big difference is that while S.H.I.E.L.D. looks into earthly threats, be it scientific or supernatural, S.W.O.R.D. is focused on extraterrestrial ones, its headquarters located in an orbital space station known as the "Peak."
The existence of S.W.O.R.D. speaks to some big things coming to the MCU. As a space defense agency working on behalf of Earth — and possibly overseen by Samuel L. Jackson's Nick Fury, based on the post-credits scene for Spider-Man: Far From Home — the inclusion of S.W.O.R.D. hints at the widening cosmos of the MCU that will happen in movies like 2020's The Eternals, Guardians of the Galaxy Vol. 3, and the Captain Marvel sequel. All upcoming Marvel movies, all movies that will undoubtedly deal with space in some way.
You can almost expect S.W.O.R.D. to play a far bigger role throughout Phase 4 (and maybe even Phase 5?) than S.H.I.E.L.D., which disbanded in 2014's Captain America: The Winter Soldier due to the insidious HYDRA cabal within it. The agency never fully reorganized. (Unfortunately, the adventures of Agents of S.H.I.E.L.D. was never really acknowledged in any of the major Marvel movies.)
Heck, just the existence of S.W.O.R.D. also hints at a possible arrival of the X-Men. It was Whedon's X-Men comics that introduced the agency into Marvel canon. Even the rights to use S.W.O.R.D. were wrapped up in 20th Century Fox's ownership of the X-Men.
In 2011's Thor, a deleted scene featuring Erik Selvig (Stellan Skarsgård) had Erik order his lab to cross-reference some data "with the S.W.O.R.D. database." The scene was cut from the film due to all things X-Men belonging to Fox, but now the rights to X-Men are back with Marvel following Disney's multi-billion dollar purchase of 20th Century Fox.
Let's also not forget that S.W.O.R.D. is debuting in WandaVision, itself a Marvel show with a lot of looming questions. Besides the fact WandaVision will play a major role in shaping the MCU (the show will have direct ties to Doctor Strange in the Multiverse of Madness), the inclusion of a military space agency in a show expected to look and feel like a 1950s sitcom, à la I Love Lucy, is a total clash of tone that only inspires more questions than answers.
WandaVision does not yet have a premiere date on Disney+.