Here's when 'Rick and Morty' Season 4, Episode 6 should kick off Part 2
When can we expect the rest of this season to start?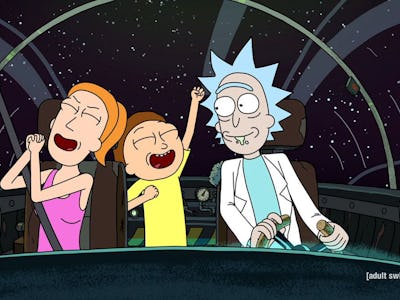 Adult Swim
Rick and Morty was off the air for more than two years between Season 3 and 4. So now that the Season 4 mid-season finale "Rattlestar Ricklactica" has aired, the top question on every fan's mind is how long we'll have to wait until the rest of Season 4 begins.
So when will Season 4, Episode 6 air? Adult Swim hasn't offered a firm confirmation just yet, but it won't be until sometime later in 2020.
The Season 4 trailer confirmed that five all-new episodes would begin airing in November, and the narrator called it "half the season you deserve — all the season we could handle." Series co-creator Justin Roiland confirmed in a July interview with Entertainment Weekly that Season 4 would be 10 episodes total.
In that same interview, Dan Harmon explained that with the 70 episode renewal from Adult Swim, the wait between seasons would never be that long again.
"I think it's safe to say without fear of being wrong that the gap between Seasons 3 and 4 will be the longest and last time that it's ever so long that it's ridiculous," Harmon said. "I don't know how fast we can do it, but I know it will never be this long again."
Season 2 and Season 3 both ran mostly during late summer and early fall, so neither is helpful when speculating when Rick and Morty Season 4 might return. However, Season 1 began in Winter 2013. The first three episodes aired December 2, 9, and 15 before a month-long break and then episodes resumed on January 13, 2014.
This late-December-early-January break is common for many television series. So we have every reason to expect something similar for Rick and Morty Season 4, meaning it will continue at some point in either January or February.
However, in an interview with Collider published at the end of November, the voice actor behind Summer Smith, Spencer Grammer, confirmed that she'd only just finished recording her lines for Rick and Morty Season 4 earlier that month.
"I just recorded 4.10 when I was in LA a few weeks ago but, those change a lot," Grammer said. "I'll be going back to do pick-ups probably for some of them. They're revising and then re-writing certain things. So, we're not finished yet but yes, I recorded all of them so far."
Voice recording seemingly happens rather late in the production process, and revisions like this are common. Still, Grammer having recorded her final lines that recently could indicate that the rest of Season 4 won't kick off until later than we previously thought.
We have no firm way of knowing when the rest of Season 4 will air until Adult Swim makes an announcement, but our best guess puts the mid-season premiere in early March at the absolute latest. On the plus side, Dan Harmon did say in the July interview with Entertainment Weekly, "we're literally writing Season 5 while finishing Season 4 just to force ourselves to commit to a certain schedule."
If the rest of Season 4 isn't completely don't just yet, then it must be very close. So be on the lookout for the official announcement from Adult Swim sometime in the New Year.
Rick and Morty Season 4 airs Sunday nights on Adult Swim at 11:30 p.m. Eastern.