Leak claims 'GTA 6' might finally be revealed at The Game Awards
Could this finally be it?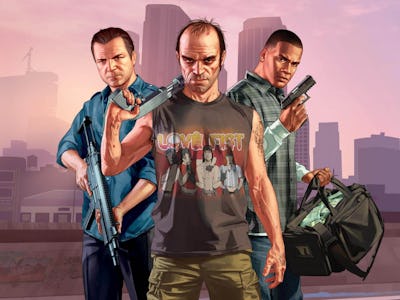 Rockstar Games
The Game Awards are only a few days away and host Geoff Keighley has promised that there will be ten unannounced game reveals to hype gamers up about what the next couple of years have in store. A handful of these announcements have already been teased, but the majority remain a mystery.
A new Batman Arkham title and another Crash Bandicoot game are likely candidates. But optimistic gamers have discovered information that suggests Rockstar Games could tease Grand Theft Auto 6. Rumors about the follow-up to the 2013 open-world adventure have been swirling online for months and there's compelling evidence to believe there might be some kind of GTA 6 teaser at the December 12 ceremony.
For starters, Rockstar is once again listed as a part of the Game Awards Advisory Board. The publisher has been on the board since the first Game Awards in 2014 so this isn't anything new, but as a member it presumably has the option to showcase anything it has under wraps. Other board members, like Valve, are expected to demo more of its recently announced virtual reality game Half Life: Alyx.
Rockstar has never revealed a title at the Game Awards, before so it would be a company first if they decide to announce GTA 6 Thursday night. However, Rockstar has previously used the big industry events to debut its next big title. It revealed GTA 4 to the world during the E3 2006, but the company chose to announced GTA 5 with its own event in 2011.
The GTA 6 rumor flames were further fanned by an alleged 4chan leak that listed eleven announcements that might be revealed at the Game Awards. The anonymous poster listed GTA 6 alongside unannounced, but heavily rumored titles like Batman: Arkham Legacy and a Crash Bash remake. However, the leaker's predictions have proven to be slightly inconsistent.
For instance, the leaker claimed that the Resident Evil 3 remake would be shown off at the awards show. But the game was instead revealed as part of Sony's State of Play announcement on Tuesday.
Keighley also said in a recent Reddit AMA that "nothing about [the] show has leaked" as of December 6, which makes the 4chan information even more questionable.
All of the rumors, alleged leaks, and hints about GTA 6 at this point have suggested the highly anticipated title will be a riff on Netflix's Narcos. They claim the game will primarily take place in Vice City (fictional Miami), but players will get to travel to a handful of Latin American-inspired areas and Liberty City (fictional New York). It's a similar concept to the Guarma mission in Red Dead Redemption 2 and the North Yankton in GTA 5.
There has yet to be an impeccably credible source to come out with new information about what Rockstar might have up its sleeve. So the game might end up being completely different. One thing's for sure: GTA fans will be on the edge of their seats to see if any of these predictions prove true at The Game Awards.
The Game Awards air December 12 at 8:30 p.m. Eastern.