'Resident Evil 3' remake release date and more revealed at State of Play
We also got a peek at 'Ghost of Tsushima' and the upcoming 'Kingdom Hearts' DLC.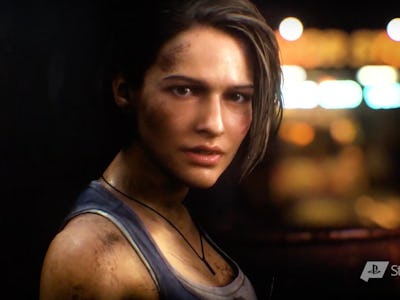 Capcom / PlayStation
Ahead of The Game Awards on Thursday night, Sony had a few exclusive reveals of its own to drop early Tuesday morning. A couple of the biggest ones, like Resident Evil 3 and the first look at the upcoming Kingdom Hearts III DLC, had already made their way online. However, the December 10 State of Play did reveal some intriguing brand-new titles and offered gamers their first look at the gorgeous, intriguing samurai adventure Ghost of Tsushima since E3 2017. Here's a rundown of everything Sony announced and revealed at the latest State of Play.
The indie sensation that inspired a million memes, Untitled Goose Game, comes to PS4 on December 17. Get ready to terrorize children and the elderly, avian style. Next, Sony teased a new multiplayer battle royale game called Spellbreak, which has a very Final Fantasy XIV meets Overwatch feel. Closed betas for the game will begin in spring 2020.
Media Molecule finally announced a release date for its possibility-packed sandbox and design game, Dreams. You can start making your own worlds and games on the most romantic day of the year: February 14, 2020. Sony followed up that news with two more trippy mindbenders. Superliminal, a physics game where you manipulate the environment in unexpected ways, will be out next year. Similarly, Paper Beast for PSVR lets you manipulate terrain, fluids, and spindly origami creatures that look like they've been plucked from a Salvador Dali painting. It'll be out in early 2020.
If you're a Kingdom Hearts fan, you likely saw that trailer for the Re:Mind DLC that leaked over the past weekend. Welp, it was intended to be revealed today. It's got new playable characters and battles, and it's out on January 23.
Sony followed up with a new look at Predator: Hunting Grounds, an asymmetrical shooter with some cool heat-seeking features that's due out April 24. It then revevaled a first look of a new Soulslike from Square Enix called Babylon's Fall, which looked very intense, grim and combat focused. There's no release window yet, but we can expect to hear more next summer.
Perhaps the most exciting news to come out of today's presentation: Resident Evil 3 is coming, and it'll be out soon! The remake will release on April 3. As an added bonus, it will be bundled with Resident Evil: Resistance, the 4 v. 1 asymmetrical survival game that blends elements of Left 4 Dead and Five Nights at Freddys.
To cap off the 20-minute presentation, for the first time since E3 2017, we got another look at Sucker Punch's stunning new project, Ghost of Tsushima. Sony didn't show us much, just part of a cutscene depicting a showdown with our hero and an opponent wearing a creepy half-face mask. Still, the environments and lighting in this game look positively stunning, and we can't wait to see more. Luckily, it seems we won't have to. Sony says a more in-depth trailer will debut Thursday night at The Game Awards.
If you want to check out State of Play in full, we've embedded the video below.