Musk Reads: Mars city could fuel the warp drive
The CRS-19 reaches the space station; Crew Dragon gets a mission date; and the Starlink launch could be "bumpy."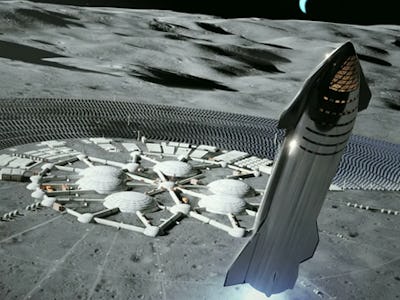 The CRS-19 reaches the space station; Crew Dragon gets a mission date; and the Starlink launch could be "bumpy." It's Musk Reads: SpaceX Edition #128.
A version of this article appeared in the "Musk Reads" newsletter. Sign up for free here.
Musk quote of the week
"If we create a city on Mars, Earth-Mars travel will be a powerful forcing function for inventing something like warp drive."
SpaceX
Lift off! SpaceX sent up the CRS-19 resupply mission on December 5 with 5,700 pounds of vital supplies for the International Space Station. This was the 75th launch for the Falcon 9 rocket and the 19th resupply mission. In total, SpaceX has now sent over 95,000 pounds of supplies to the station. This mission's cargo contained a series of cool experiments like barley seeds, mice that could help muscles grow strong, and atoms that could reshape our understanding of physics. The booster landed on the Of Course I Still Love You drone ship after launch, and the capsule arrived at the space station on Sunday. The mission was in the same week that SpaceX marked nine years since it first completed a flight for NASA's Commercial Orbital Transportation Services program.
When will the Crew Dragon send humans into space? It could be as early as February. Company president Gwynne Shotwell claimed last week that the firm is targeting January 4 for the in-flight abort test. The capsule will escape mid-launch from a Falcon 9 booster before launching the first manned test mission as early as February. The date coincides with previous comments from October, where Musk and NASA Administrator Jim Bridenstine both claimed the Crew Dragon could launch in the first quarter of 2020. Spaceflight Now sat down with Shotwell on Friday, five years on from that first prototype capsule reveal, for a wide-ranging interview about the project's highs and lows, where she admitted the team "definitely learned a lot" along the way.
Starlink could be in for a rough ride with its initial launch, Shotwell told the Los Angeles Times last week. The controversial internet satellite constellation is set to start hosting services in mid-2020 after six launches of 60 satellites each, with a full-fledged service emerging in 2021 after 24 launches. SpaceX has currently completed two launches. Shotwell said that early adopters would be part of the learning process:
"We're not going to fib and say it's going to be the best thing ever … when you get service, it's going to be great. But it'll be bumpy for a while."
What's next for SpaceX: SpaceX is set to launch the JCSAT 18/Kacific 1 mission on the evening of December 16 from Cape Canaveral Air Force Station in Florida. The satellite will provide communications services for the Asia-Pacific region.
In other Musk news…
Musk did not defame British cave diver Vernon Unsworth, a jury in Los Angeles concluded on Friday. The case centered around an incident in July 2018 where Musk referred to Unsworth, who helped rescue 12 boys and their coach from a cave in Thailand, as a "pedo guy" on Twitter. The Times reported Sunday that Unsworth's lawyers are "very actively considering" seeking a retrial. Musk marked the not guilty verdict by quoting a once-popular internet meme: "My faith in humanity is restored."
Musk Reads mailroom
Cameron Cole writes:
Any news about setting up space refueling depots? Seems like a logical and practical thing to do. I think when NASA does land on the moon with astronauts SpaceX will be there to greet them. Maybe invite them in for a lunar cocktail.
The Starship plan considers in-space refueling as a key aspect of the process. Back in August, NASA announced plans to work with SpaceX to look at ways to transfer propellant in orbit. In September, NASA announced SpaceX would collaborate with Marshall Space Flight Center in Huntsville, Alabama, on a $3 million project focused on refueling spacecraft.
As for that lunar cocktail, SpaceX's base may not be quite the expansive city it is on Mars, which could make such amenities in short supply. There's a long and illustrious history of astronauts kicking back with a drink in space, though.
Got any comments or queries? Don't forget to send them over to muskreads@inverse.com.
Photo of the week
Falcon 9 lands after the CRS-19 mission.
The ultra-fine print
Thanks for reading this edition of Musk Reads! If you enjoyed, consider sharing it with a friend using the link below.
A version of this article appeared in the "Musk Reads" newsletter. Sign up for free here.