'Justice League' writer straight-up teases a Snyder Cut release date
Chris Terrio suggests in two separate interviews that there will be more to talk about when it comes to the "Snyder Cut."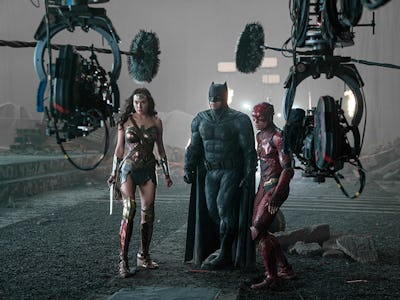 Warner Bros. Pictures
Now that Zack Snyder has shared pictures of actual, physical copies of his Justice League directors cut, the fabled "Snyder Cut" is no longer the Bigfoot of the superhero movie universe. It's real, it exists, but only few in the world have ever seen it. That might change soon, though, if we're understanding the latest quotes from Justice League screenwriter Chris Terrio.
In an interview with Polygon, Chris Terrio, writer of Argo (2012) and Star Wars: The Rise of Skywalker (co-written with J.J. Abrams), heavily suggests that there is some sort of release for Zack Snyder's cut of Justice League in the future.
"We'll have a date in a couple of months, and we'll talk about it then," Terrio tells Polygon. "Because, you know, that is a really interesting topic that I have not spoken about yet."
Hold up! Did Terrio just confirm that he'll be able to discuss the Snyder Cut's official release date a few months from now? You could also read this quote as him saying that he wants to meet with the interviewer again to discuss the topic more broadly at a future date, but that feels like a stretch.
Terrio also said something similar to Uproxx earlier this week. "The thing is, I can't really speak to that at this moment," he said. "But I promise that I will talk to you about that very thing at some point after this film." ("This film" Terrior refers to is The Rise of Skywalker.)
Terrio co-wrote 2017's Justice League with Snyder and shares credit with Joss Whedon, whom Snyder recruited for rewrites and was hired by Warner Bros. as director after Snyder left production due to a family emergency. Fans claim that Whedon's approach to the film dramatically altered Snyder's intended vision, and some devotees who have grown to love Snyder's baroque take on the DC Universe sincerely want to see his vision fully realized.
Cinematographer Fabian Wagner, who recently held a masterclass in filmmaking and answered questions from students, said a small fraction of what he shot was used in the theatrical version. "The movie that was in cinema was maybe 10% of what we shot. Everything else was a reshoot."
It's been a big week for the "Snyder Cut"! A big year, even. This year, on the two-year anniversary of the DC film's release, fans who wish to see Snyder's cut of Justice League (rallied by the hashtag #ReleaseTheSnyderCut) started gaining support from some of the film's stars, including Ray Fisher, Jason Momoa, Gal Gadot, and Ben Affleck. That Affleck was willing to tweet the hashtag speaks volumes, given his exit from the DC franchise earlier this year.
This week, Snyder shared photos of actual copies of his version of Justice League, finally releasing proof of its existence into the internet wild. The photo reveals a runtime of "214 minutes," or three and a half hours.
A day later, when Forbes' Scott Mendelson questioned if it was an assembly cut — in filmmaking, "the first draft" that collects pretty much all the footage shot and put together, resulting in a cut that is extra long and never intended for audiences — Snyder responded, "The assembly cut was nearly 5 hours long."
Will the Snyder Cut actually become an available product, one that can be accessible with purchase of a movie ticket/subscription to a streaming service like, say, HBO Max? A source recently told Variety that it is a "pipe dream" that the Snyder Cut will end up on Warner's streaming service. But if the visible movement on the Snyder Cut is proof of anything, it's that you can't stop people from dreaming.