The Snyder Cut is "real" and it's extremely long, Zack Snyder reveals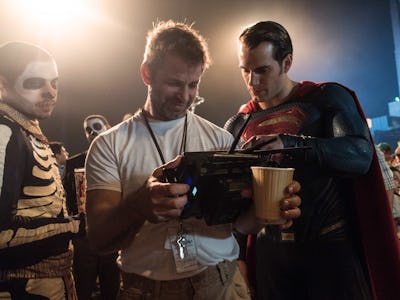 Warner Bros. Pictures
If you didn't believe there was a "Snyder Cut" of Justice League before, you may have to admit it now. On the social media app Vero, Zack Snyder published an image of film canisters labeled "Z.S. JL DIRECTOR'S CUT," seemingly confirming the long-rumored movie's existence and also revealing a shockingly long runtime (even by superhero movie standards).
Overlaid in text, Snyder wrote, "Is it real? Does it exist? Of course it does." A closer look at the image also reveal a runtime of 214 minutes. (That's three and a half hours!)
The "it" Snyder refers to is the Snyder Cut, a fabled (and I guess, real) director's cut of Justice League, the 2017 DC superhero movie Snyder exited from after a family tragedy. Joss Whedon, director of The Avengers, replaced Snyder during reshoots (he is credited as writer) which fans believe substantially retooled the final version away from Snyder's ornate vision.
Snyder's new Vero post is just the latest chapter in the Snyder Cut saga, which began almost immediately after the theatrical release of Justice League in November 2017. When the film, poised to be an event release on the level of Marvel's Avengers franchise, underperformed at the box office (its worldwide gross was $657.9 million) and critically (40% rating on Rotten Tomatoes), fans began a grassroots campaign to compel Warner Bros. to "release the Snyder Cut." The hashtag used by fans is #ReleaseTheSnyderCut.
For years, the Snyder Cut has been a point of contention between fans, film journalists, and industry insiders, giving it mythological status even after those who've worked closely with Snyder confirmed its existence in interviews. Now, Snyder's Vero post is visual proof of the Synder Cut as a physical entity.
The efforts of the campaign got serious momentum recently in mid-November on the two-year anniversary of the release when several of the film's stars tweeted #ReleaseTheSnyderCut. Ray Fisher, Gal Gadot, and even Ben Affleck logged on to tweet the hashtag. (Other superhero actors not in the movie, including Yahya Abdul Mateen II and Marvel star Simu Liu, also tweeted.)
With Warner Bros. amping up towards its own streaming service, HBO Max, there is speculation the Snyder Cut could be a launch exclusive meant to bring in subscribers. But sources told Variety in November 2019 that it is a "pipe dream" and unlikely to happen due to the cost required to get the movie to a point where it could even be released.
Will Warner Bros. actually release the Snyder Cut of Justice League? There's obvious consumer demand, but how much the rest of the world outside Reddit forums would actually pay to see it is the deciding factor in whether Warner Bros. puts out the movie.
Either way, what no one can dispute now is its existence.