'Justice League' Crew Say There's Plenty of Material for a Director's Cut
Sound editor Scott Hecker and cinematographer Fabian Wagner are hopeful fans will see the rest of their work, some day.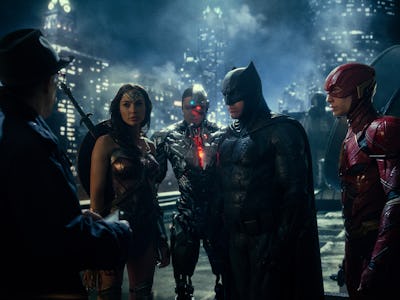 Warner Bros. Pictures
If you feel like Justice League was an incomplete film, rest assured that there exists enough material for a longer, Director's Cut version — if it ever comes out.
In the aftermath of Justice League — the DC superhero extravaganza from Zack Snyder and Joss Whedon — the most impassioned fans are campaigning for Warner Bros. to release a "Director's Cut" when the film hits home media. While there is not yet an official word that such a version is coming, two key members of the production crew, sound editor Scott Hecker and cinematographer Fabian Wagner, tell Inverse that there are enough deleted scenes to warrant one and that they hope fans see those scenes one day.
Usually, Hollywood studios often release longer versions of a big movie without the urging of fans. But Justice League is different. The brief, rocky history of the DC cinematic franchise has left a small but loud sect of fans earnestly believing that Zack Snyder, the original director before he took a leave of absence following a family tragedy, had his best material left out. Joss Whedon, director of Marvel's The Avengers took over in reshoots.
Fans asking for a director's cut seem influenced by historical precedent. Decades ago, director Richard Donner was replaced by Richard Lester midway of shooting 1980's Superman II, who was contractually forced to make up at least half of his own material to get directing credit. (Whedon did not get directing credit on Justice League, but he did share screenwriting credit with Chris Terrio.) It wasn't until 2006 when Superman II: The Richard Donner Cut was released on DVD.
Superman II looks like it's informing a lot of DC movie fans how this is supposed to work out as they petition for a "Snyder cut."
Still proud behind the scenes crew are just as disappointed that some of their work has been left unseen. Still, their combined years in the industry has informed them that that's just how movies happen.
Scott Hecker, a veteran sound editor whose credits include Back to the Future, Road to Perdition, and multiple collaborations with Zack Snyder, including 300, Sucker Punch, and Man of Steel, calls Justice League "the most challenging film I've worked on, both creatively and logistically." Besides "retaining the integrity" for the unique sounds related to Superman, Batman, and Wonder Woman and inventing new sounds for Cyborg, Flash, Aquaman, and Steppenwolf, Hecker said time was the enemy against everyone working on the film.
"With all the additional photography being integrated into the film and and time fleeting towards the release date, we ended up culminating our year of work mixing on multiple stages for 46 straight 12-plus hour days!" Hecker wrote in an email. Though it was no walk in the park, Hecker's tone in his responses are imbued with accomplishment, not frustration.
"We had a fabulous crew, supported by Warner Bros. and everyone on the team from producers, directors, film editors, music editors and mixers worked together in a very fun, harmonious and professional way all the way to the finish line!"
Hecker says his work on Justice League was typical of many big studio films, starting with a cut "that starts out 3+ hours" before being edited down. "So naturally many scenes and sounds are left on the proverbial cutting room floor," he says. He's hopeful fans may one day see it all sooner than later. "The cool part is that on many of these films the studio releases the Director's Cut with a lot of that material put back in the film for the DVD release, so at least most of the sounds we create will be used one way or another."
Again, Justice League was all standard procedure for Hecker, it's just that he had a different director to answer to after a period. He worked with both Snyder and Whedon throughout production, calling both "super fun and inspiring."
Fabian Wagner, an accomplished cinematographer whose credits include the biggest episodes of Game of Thrones, also says there was a lot of material he shot that didn't make the final cut of the movie. He also shot a few scenes of Superman's black costume, which he called "a cool looking costume" that fans didn't get to see.
"Unfortunately there is quite a few scenes that didn't make it into the theatrical release," Wagner told Inverse in an email. "Zack takes his time with telling the stories and I've always liked that about his movies. There is a few scenes that I was very much looking forward to seeing which unfortunately got cut."
Unlike Hecker, Wagner worked only with Snyder. Second unit DP JP Gossart took over during reshoots, "which was great as I knew he would be able to keep a consistency I established," Wagner says. And he wouldn't detail all the scenes that got cut, but he did shoot one in particular that was seen in the trailer: Alfred (Jeremy Irons) talking to an off-screen figure in the Batcave. Wagner wouldn't confirm who Alfred spoke to, but he called it one of his favorites. "Maybe we'll see a cut one day with [that scene]. It was a great scene to shoot."
Justice League is in theaters now. There is not yet a release date for the Blu-ray and DVD.