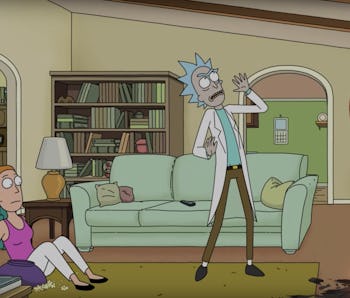 Entertainment
How to stream 'Rick and Morty' Season 4 Episode 4 without Mr. Meeseeks' help
You won't need an interdimensional cable hookup either...
Adult Swim
When Morty Smith gets a dragon on Rick and Morty, it leads to some predictably fiery results in Season 4, Episode 4. How can you watch what's probably a Dungeons & Dragons crossover episode, especially if you don't have cable? Here's your streaming guide to Rick and Morty Season 4, Episode 4, plus everything we know so far about the upcoming episode.
In the preview for Season 4's fourth episode, a fiery eruption breaks through the floor in the Smith family living room, and Rick complains, "that's the end of the 'Morty gets a dragon' episode." Rick promises to "slay it," and then we see him cursing out a red dragon laying atop a pile of gold and other treasure. He attacks like a ninja from the ceiling while a hologram distracts the angry lizard, and that's all we know about "Claw and Hoarder: Special Ricktim's Morty" beyond the typically nonsensical description: "Morty gets a dragon in this one broh. It's a wild ride broh."
Fans don't want to miss this "wild ride." So how can they make sure they watch?
The obvious answer is to tune in via live TV with a cable subscription on Cartoon Network right at 11:30 p.m. Eastern, but if that's not an option, there are other methods.
There's also the live simulcast on Adult Swim's website if you'd rather watch on a computer or other device, but you still need a cable log-in for that.
If 11:30 p.m. is too late at night and you do have a cable subscription, you can watch after the fact via Adult Swim's official Rick and Morty page or the Adult Swim app. Not all cable providers are supported, however. The list of eligible providers includes Comcast, DirecTV, and AT&T. (My cable provider, Optimum, is unfortunately not included, but it allows me to watch episodes after the fact on demand.)
Translation: Just because you have cable doesn't guarantee that you can use it to watch Rick and Morty after it airs, so you might want to stay up late to watch.
There's always the option of buying episodes via YouTube, Amazon, or iTunes — or getting a discount on pre-purchasing the entire season — but what can you do if you're truly desperate?
Pornhub has become a popular hub (pun intended) for Rick and Morty Season 4 piracy, but the website has been cracking down harder and harder on such practices. Project Free TV, Muchoflix, and similar sites also host pirated episodes of the series that are technically illegal, so when they're detect by the network, they often get taken down rather quickly.
We urge our readers to go through the proper channels to watch Rick and Morty Season 4. If you're willing to wait, all of Rick and Morty Season 4 might be added to Hulu's library by May or June 2020, depending on when the back-half of Season 4 airs.
If immediacy and efficiency is your focus, and cost not an issue, then there are non-cable methods of watching live TV:
AT&T TV Now, Hulu with Live TV, FuboTV, Sling TV, or YouTube TV should all work for watching Rick and Morty Season 4 as it airs. FuboTV allows subscribers to watch episodes on-demand after they air, so perhaps the greater convenience might tip the scales when you're making the decision.
Chances seem high that the episode with the dragon also features some dungeons, like one scene from the Season 4 trailer where Rick uses a magic device to transform goblins into inanimate objects and Summer's there in some high fantasy cosplay.
"I've recorded this one about four times," Summer's voice actor Spencer Grammer tells Inverse. "Summer has a smaller part that continued to get bigger, then scaled back, and then back to bigger again. This episode wound up being a good Summer episode but obviously a good Rick and Morty episode too. There's a dragon situation — that's already been out there."
When asked if this was also the episode with the aforementioned Summer ranger cosplay, Grammer offers a hesitant, "Maybe?" She adds that "maybe it'll be a fun cosplay Summer?"
Grammer assures us that she hasn't seen the episode yet and can't say for sure either way, but the "logic checks out" when it comes to making the connection between a dragon and Ranger-Summer marching through a dungeon. All of these things have to happen in the next two episodes anyway because they were both featured in the trailer for the first half of Season 4.
Are we about to see a bonafide Rick and Morty crossover with Dungeons & Dragons as the show pokes fun at high fantasy in the same way it did heist movies in Episode 3? Almost definitely. We just hope Rick doesn't hate D&D as much as he hates heist movies.
Rick and Morty Season 4 airs Sunday nights on Adult Swim at 11:30 p.m. Eastern.