'Rick and Morty' Season 4, Episode 4 delay just set up a Christmas special
It could be the show's first holiday episode in years.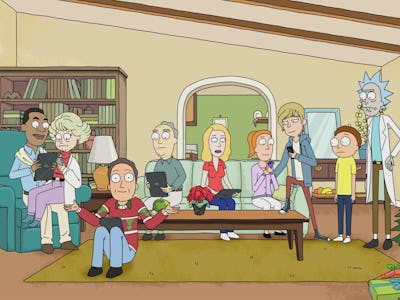 Adult Swim
If you're already pining for the next new episode of Rick and Morty Season 4, we have some bad news. As the Episode 4 preview at the end of Episode 3 revealed, the Adult Swim cartoon won't return for "two weeks." That's right: Rick and Morty is taking the week off for Thanksgiving, and while that might feel like a frustrating delay, it also confirms the mid-season finale, "Rattlestar Ricklactica," will feel like a holiday special when it airs in the middle of December.
We already knew that Rick and Morty would celebrate Christmas in some fashion in Season 4 based on an early animatic shown during San Diego Comic-Con 2019 in July. We had no way of knowing what episode it was from, but now we know the clip shown, which was never released to the public, comes from Episode 5.
In it, Jerry falls off a ladder while hanging up Christmas lights. Rick saves him with a gadget that makes Jerry buoyant. Later, while Rick fixes his car in space, Morty is bitten by a space snake and becomes ill. That's not the whole episode, but it offers a glimpse at what sets up the A- and B-plots with more details than the vague episode description:
"Lots of things in space broh. Snakes and sharp stuff. Watch this broh."
For even more details about the clip, read "Rick and Morty Season 4 Christmas Episode Teased at San Diego-Comic Con"
When the Rick and Morty Season 4 trailer confirmed the first five episodes were coming this year, the narrator joked, "Half the season you deserve — all the season we could handle."
This upset some fans that had already waited more than two years for more Rick and Morty, so for the show to take off a week in the midst of this small five-episode batch feels frustrating. It just means, however, that Episode 5 should now air on Sunday, December 15 (assuming Adult Swim doesn't skip any more weeks.) instead, making it that much better timing for a Christmas episode. And if Adult Swim skips another week after Episode 4, the mid-season finale might not arrive until December 22. Either way, it'll feel seasonally appropriate.
Other than Elon Tusk making a turkey just a few short days before Thanksgiving this year, Rick and Morty rarely celebrates any holidays, with the one obvious exception being "Anatomy Park," which took place during Christmastime way back in Season 1.
The Rick and Morty Season 4 mid-season finale will follow suit in an episode that takes place during the holidays, but it's probably not a legitimate Christmas special. Even then, it's still a mid-season final, so big things are bound to happen. Will they invite Morty's son to the festivities? Will Evil Morty crash the party?
The most important question here is whether or not Jerry's parents and their shared lover will be over this year for Christmas?
Rick and Morty airs Sunday nights on Adult Swim at 11:30 p.m. Eastern.