How to stream 'Rick and Morty' Season 4 Episode 3 without selling your Morty
Was watching 'Rick and Morty' always this hard?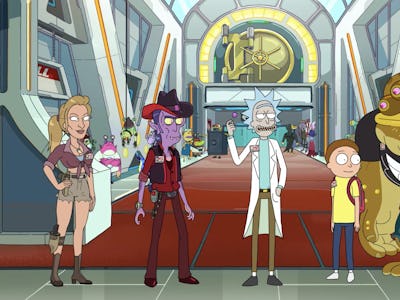 Adult Swim
The trailer for Rick and Morty Season 4, Episode 3 shows Rick assembling a crack team of random friends from across the universe who we've never met before, but not even they'd be able to figure out the easiest way to actually watch the episode when (or after) it airs. Watching Rick and Morty in the age of streaming proves an ongoing challenge for many fans in Season 4, so what's the best way to make it happen?
The obvious answer is to watch Rick and Morty on live TV with a cable subscription on Cartoon Network right at 11:30 p.m. Eastern. If that's too late at night and you still have a cable subscription, then you should be able to watch later via Adult Swim's official Rick and Morty page. Another option is to watch the live simulcast on Adult Swim's website, but you still need a cable log-in for that. The caveat with all this, however, is that's not how every cable provider works.
The Adult Swim FAQ page words it like this: "Access to this service is only available to customers of participating TV Service Providers who also subscribe to Adult Swim. Please check back soon to see if your TV Service Provider has been added." According to Express, the list of eligible providers includes Comcast, DirecTV, and AT&T. (My cable provider, Optimum, is unfortunately not included, but it allows me to watch episodes after the fact on demand.)
In simpler terms: Just because you have cable doesn't mean you'll be able to use it to watch Rick and Morty.
The official Adult Swim app is no help in this matter, because you still have to log in with a cable subscription to access any of the videos. Outside of buying individual episodes via YouTube, Amazon, or iTunes, what's a desperate fan to do?
Pornhub, of all places, has become a popular … hub … for Rick and Morty Season 4 piracy, but the website has been cracking down harder on such practices.
"Pornhub is fully compliant with the law," Pornhub VP Corey Price tells Inverse in an official statement. "We respect all copyright requests and once we received some notifying us of the existence of Rick and Morty videos on our site, we had them quickly removed. We happen to be big fans of the show and recommend people check it out on Adult Swim or the appropriate channels."
For what it's worth, we also recommend that people go through the appropriate channels — especially because the inappropriate channels are dicey and inconsistent at best.
Some folks are uploading episodes to Project Free TV, Muchoflix, and similar sites, but there's no telling how quickly new episodes will be uploaded after the episode airs Sunday night — or how quickly they'll be forcibly removed. For anyone patient enough to wait, watching Rick and Morty Season 4 should get easier in due time.
Currently, the Season 4 premiere is free to anyone to watch, and some fans on Reddit have theorized that as new episodes air, the previous episode will become free to watch. If that proves true, then Episode 3 will be available for free on Adult Swim's website when Episode 4 airs on Sunday, December 1.
If that's not the case, then all of Rick and Morty Season 4 should be added to Hulu's library by May or June 2020.
If immediacy is your primary concern and cost is not an issue, most live TV streaming services should suffice.
AT&T TV Now, Hulu with Live TV, FuboTV, Sling TV, or YouTube TV should all work for watching Rick and Morty Season 4 as it airs. FuboTV allows subscribers to watch episodes on-demand after they air, so perhaps the greater convenience might tip the scales when you're making the decision.
Rick and Morty Season 4 airs Sunday nights on Adult Swim at 11:30 p.m. Eastern.