Full-length "Crisis on Infinite Earths" trailer reveals "a bigger team"
The heroes of the Arrowverse finally unite, some even across realities, in the first trailer for The CW special.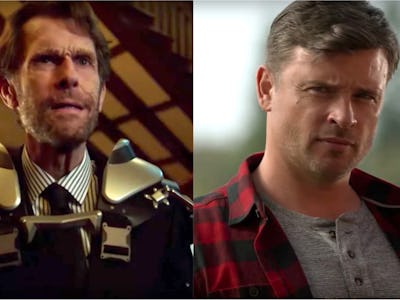 The CW
The crisis is here. The first full-length trailer for "Crisis on Infinite Earths," the five-part mega-crossover featuring Arrow, The Flash, Supergirl, Legends of Tomorrow, Black Lightning, Batwoman, and many more corners of the DC Universe is now online. In it, the surviving heroes of the Arrowverse form "a bigger team" to combat the threat known as the Anti-Monitor.
Endgame, shmendgame. "Crisis on Infinite Earths" is the geek crossover event DC fans have been waiting for.
On Tuesday, Arrow producer Marc Guggenheim uploaded the first full two-minute trailer for "Crisis on Infinite Earths" that breaks down the basic plot: As the Anti-Monitor's anti-matter waves destroy different Earths, the Arrowverse's main heroes team up on Earth-38 (the homeworld of Supergirl) and travel across realities to recruit even more heroes across, hoping to use their combined might against the Anti-Monitor.
The Green Arrow (Stephen Amel), The Flash (Grant Gustin), Supergirl (Melissa Benoist), Superman (Tyler Hoechlin), Batwoman (Ruby Rose), and the Legends team up to recruit another Earth's Clark Kent (Tom Welling, reprising his role from Smallville), Bruce Wayne (Kevin Conroy, portraying his famous animated role for the first time in live-action), The Flash of Earth-90 (John Wesley Shipp), and Black Lightning (Cress Williams).
Ominously, the trailer hints that not every hero will survive. Both the Green Arrow and The Flash appear to meet their doom, while Supergirl looks at shattered glasses that apparently belong to her world famous cousin.
You can watch the official trailer below.
Even more heroes confirmed for the crossover have yet to appear in any of the crossover special's trailers and promotional images, such as Ashley Scott (star of the short-lived WB series Birds of Prey).
Brandon Routh, who stars as The Atom on Legends of Tomorrow, will also reprise his cinematic role of Superman from the 2006 film Superman Returns. We've seen him in other TV spots before, but he's not in this official "Crisis" commercial.
The crossover, which begins airing on December 8 on The CW, adapts the crossover miniseries Crisis on Infinite Earths, published in 1985. Similar to the TV special, the comic saw heroes from across the DC Comics multiverse team up against the Anti-Monitor's destructive ambitions. The comic ended with DC continuity simplifying its complicated continuity, allowing for a fresh start for its most popular characters. That may happen for the Arrowverse, though what these shows will look like after "Crisis" remains to be seen.
"Crisis on Infinite Earths" begins December 8 at 8 p.m. Eastern on The CW.