Kevin Conroy isn't the Batman you think in "Crisis on Infinite Earths"
The star of 'Batman: The Animated Series' isn't reprising his role on The CW in exactly the way his fans might remember.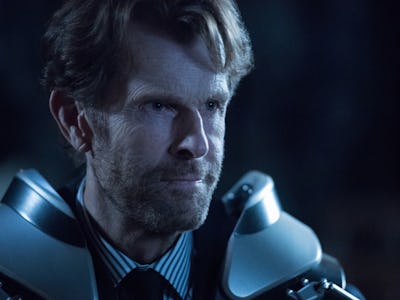 The CW
If you're going into the "Crisis on Infinite Earths" hoping to see Kevin Conroy's Batman straight out of your childhood memories, sorry, and Kevin Conroy isn't the Bruce Wayne you remember from Batman: The Animated Series or even Batman Beyond.
In an interview with Entertainment Weekly, Kevin Conroy, who starred as Batman in the Emmy-winning cartoon and is now playing the role in live-action for the first time, opened up about his upcoming appearance as Bruce Wayne in "Crisis on Infinite Earths," the crossover event featuring shows from The CW's roster of DC superhero shows: Arrow, The Flash, Supergirl, Legends of Tomorrow, Black Lightning, and Batwoman.
Due to a combination of a new Batman envisioned for the crossover, and Conroy appearing in live-action, the Batman fans meet in "Crisis" isn't the quite the one fans remember from their carefree afternoons spent in front of the TV.
"In this, I explore a lot of dark corners of Bruce Wayne," Conroy said. "But they're different than the ones I explored on Batman Beyond," he added. The actor refers to the sequel series of Batman: The Animated Series, where Conroy played an older Bruce Wayne whose mantle is taken over by Terry McGuinness in a futuristic Gotham City.
The virtue of being an on-camera role as opposed to a voiceover created a fundamentally different Batman for Conroy. "I never approached this character from that physicalized aspect. I always just inhabited him with my voice," he said. "When you do that in a recording studio, it's a very intimate experience and you're sort of living in your own imagination."
He continued, "To actually be on the set, in the physical world, and to be walking as the character and inhabiting the character in three dimensions, it was a real transition for me. It did take a while to get used to, I have to admit. I was surprised because I know the character so well."
Even if Conroy acts differently as Batman than most people remember, it's still Kevin Conroy as Batman in the way fans have long hoped to see him. At age 63, Conroy is the exactly age for an older Batman as seen in popular comics, like Frank Miller's The Dark Knight Returns and Mark Waid/Alex Ross' Kingdom Come, a DC miniseries that is also an influence on the upcoming TV special.
From 1992 until 2006, Conroy voiced Batman in several DC projects. First was Batman: The Animated Series, a show that won several Emmy awards and continues to enjoy popularity as a generational touchstone.
Conroy continued to voice Batman in the show's expanded universe, including Superman: The Animated Series, Batman: Beyond, Justice League, and Justice League Unlimited. Not counting one-off guest appearances afterward, Conroy fully returned to voicing Batman in the 2016 series Justice League Action. Also, between 2009 and 2015, Conroy played Batman in the popular Batman: Arkham video games, which have shipped millions of copies worldwide.
As he steps into the Arrowverse, Kevin Conroy is taking on a new challenge. Can the beloved voice-actor compete with other live-action Bruce Waynes? We'll just have to wait and find out.
"Crisis on Infinite Earths" will being airing on December 8 at 8 p.m. Eastern on The CW.