'Crisis on Infinite Earths' photos reveal a shocking DC comics influence
Holy crossover, it's Kevin Conroy's live-action Batman.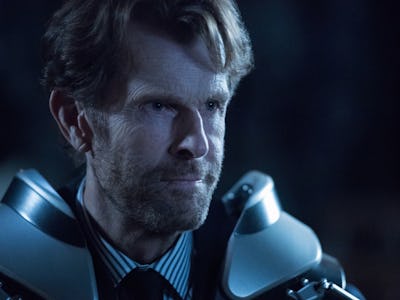 The CW
Holy crossover, Batman! New images for the upcoming Arrowverse even, "Crisis on Infinite Earths" were just released by The CW, and in several key images from the Batwoman portion of the crossover, DC veterans Kevin Conroy, Tom Welling, and Brandon Routh reprise some of their most iconic roles from Batman: The Animated Series, Smallville, and Superman Returns.
On Tuesday, The CW released photos of "Crisis on Infinite Earths: Part Two," the second episode of the upcoming five-part crossover based on the 1985 miniseries Crisis on Infinite Earths. Batwoman, the network's newest DC series, will fill in the second hour of the special. The new photos reveal what awaits, including the triumphant return of several DC alums — with a twist.
First, Kevin Conroy, the famed star of the Emmy-winning Batman: The Animated Series will play Bruce Wayne for the first time in live-action. What's different is that, based on his armored costume, Conroy is portraying Batman from Kingdom Come, the acclaimed 1996 graphic novel by Mark Waid and Alex Ross.
In Kingdom Come, a grizzled Superman comes out of retirement to confront a new generation of reckless heroes. The rest of the Justice League have grown bitter and withdrawn, while Bruce, whose body is so broken he needs an exoskeleton to move, has seemingly aligned himself with his former enemies.
Routh, star of Legends of Tomorrow who also played Superman in the 2006 film Superman Returns, was revealed at Comic-Con in July to once again play the Man of Steel wearing the costume of Superman from Kingdom Come. What the new photos confirm is that it's Conroy's Batman who will play opposite Routh's Superman in what is essentially a live-action version of Kingdom Come.
In several of the new photos, Routh stands in front of a cover of The Daily Planet with a headline that reads, "PLANET ATTACKED."
My gosh. The Arrowverse is doing Kingdom Come. Someone pinch me.
Elsewhere, Tom Welling is back in red flannel as his Clark/Superman from the popular WB/CW series Smallville. Before the Arrowverse, it was on Smallville that brought DC's biggest heroes to television. Welling hasn't had a role in any DC media since, which makes his return to the franchise nostalgic for fans who grew up watching the show. "Somebody save me…"
These aren't the first photos of "Crisis on Infinite Earths" to have surfaced. Last week, photos from the first hour of the crossover, which will be an episode of Supergirl, also showed the heroes of Arrow, The Flash, Supergirl, Legends of Tomorrow, and Batwoman joining up for the first time before things get really out of control.
To get up to speed on all things "Crisis on Infinite Earths," check out our guide here.
"Crisis on Infinite Earths" begins December 8 on The CW.