'Batwoman' star Camrus Johnson doesn't know if he's Batwing, but he's ready
"The things that are planned for Luke Fox are incredible."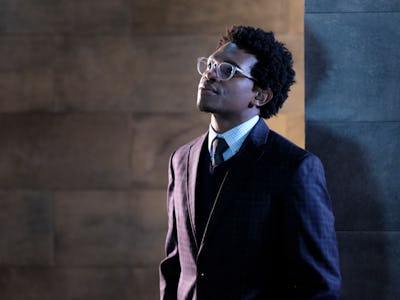 The CW
Camrus Johnson stars in the new CW series Batwoman as tech whiz Luke Fox, but the actor has just completed some important Bat-training of his own. "I just recently, we're talking two or three weeks ago, beat Batman: Arkham Knight," he boasts to Inverse. "Superheroes have always been my thing."
Lucky for Johnson, he may portray a superhero himself one day. But that's not up to him to decide. Still, he ready if the opportunity arises.
Airing Sundays on The CW, Batwoman brings Arrowverse fans to the heart of Gotham City. Two years after the disappearance of Batman, the city is left without a dark knight until Bruce Wayne's cousin Kate Kane (Ruby Rose) returns home. With Gotham in need of a hero, Kate suits up as Batwoman and vows to protect the city from a new breed of criminals.
But Batwoman can't save the city alone. That's where Luke Fox comes in. Bespectacled, neurotic, and eager to save his city, Luke is the son of Batman confidant and gadget consultant Lucius Fox. By helping Batwoman protect Gotham City, Luke serves a similar role his father played to Batman.
"I was told in the beginning that he was neurotic and protective of the Batcave. I call him stiff," Johnson tells Inverse. "He's kind of the comic relief, but he's never trying to be funny. He's funny by accident. He just cares a lot about Batman, Bruce, and Gotham City."
Adds Johnson, "Luke Fox is fulfilled because he is not planning to save the day. He's the guy who helps the guy who saves the day. Luke Fox's thing is making sure Gotham City is safe and protected by any means necessary."
The show has made some major tweaks to Luke's personality. Originally created by Justin Gray and Jimmy Palmiotti, Luke first appeared in the pages of Batwing #19 not as a tech expert, but a shredded MMA fighter. He is the second person (after a Congolese police officer) to uphold the superhero identity of Batwing; think Batman in a high-tech battle suit.
In the sprawling sandbox that makes up the Arrowverse — a multi-show shared universe that includes Arrow, The Flash, Supergirl, and Legends of Tomorrow — many characters fulfill their comic book destinies as costumed heroes on TV. But while it's possible Johnson's Luke Fox could armor up as Batwing, don't bother trying to wrangle spoilers out of Camrus Johnson.
"The writers are very smart about not telling me what happens," he says. He adds the few hints he's gotten are things he "can't talk about." Still, he adds, "the things that are planned for Luke Fox are incredible."
He adds, "Obviously I would love to play [Batwing], that would be so many dreams come true. I'm hoping for it to happen. But I don't know where things are gonna go. The past couple months I've been boxing. I don't want Luke to be bulky because he is the man in the chair, but I want to be prepared if they surprise me and Luke is going to be in awesome tights."
Johnson didn't even know who Luke Fox was when he auditioned for Batwoman. "DC didn't want spoilers getting out. So the character's name when I auditioned was Landon," he explains. "When I got the callbacks, me and my manager did some digging and realized he might be Luke Fox. As soon as I Googled his name and his picture came up, I was like, Oh boy, I need this part. Once I booked the part, I read all the comics."
Born to a Navy father in Florida, Johnson moved around the southern U.S. until his family settled in Georgia. Although he intended to follow his father's footsteps into the military, Johnson caught the acting bug when he starred in his high school's production of Charlie and the Chocolate Factory. But that almost didn't happen, after his neighborhood hosted an audition to appear as extras in 20th Century Fox's X-Men.
"I was 15, being an extra in a giant movie was a big deal," Johnson remembers. "I went, I didn't get it, and my acting teacher was mad. He was considering me to play Charlie, do a racial switch where Charlie was going to be black. Since I didn't go to the callback, he didn't do it because of me."
While Johnson missed his shot to be near the X-Men back then, his superhero luck seems to have changed for the better. On the set of the crossover event "Crisis on Infinite Earths," Johnson convinced renowned Batman voice actor Kevin Conroy (of the Emmy-winning Batman: The Animated Series) to record his voicemail. "All I can say, I went to set and met Kevin Conroy. I asked him to do my voicemail for me," he brags. "And he did! If you call me you'll hear, 'This is Batman, you called Camrus' phone.' It's the coolest thing."
Although Batwoman has just begun and Luke Fox has yet to step out of his father's shadow, Johnson is already living a childhood dream. "Superheroes were everywhere," he says. "I was Batman and Power Rangers for Halloween. I played so many superhero video games, and I still do."
Johnson didn't read comics much growing up, but says he's spent the last few years making up for lost time. "I didn't want to come off as too nerdy, which is stupid," he says. "I can't believe it took me 20 yeas to read comic books, because they're so cool! I've been pushing through from Marvel to Dark Horse to Image to DC. Much more DC."
His favorites include Justice League and, yes, Batwing. "Superheroes have and likely always will be a huge part of my life," he says.
Batwoman airs Sundays at 8 p.m. Eastern on The CW.