Musk Reads: Tesla Cybertruck imminent
Cybertruck is launching soon, Ford unveils an electric Mustang, and what about a Tesla boat?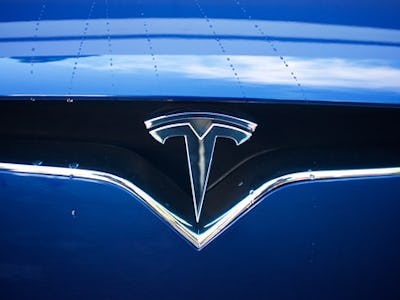 The Cybertruck launch is coming; Ford unveils an electric Mustang; and what about a Tesla boat? It's Musk Reads: Tesla Edition #123.
A version of this article appeared in the "Musk Reads" newsletter. Sign up for free here.
Musk quote of the week
"I'd be way too embarrassed to put that on a Tesla. It's like a kid's drawing."
Tesla
It's nearly here. Tesla is expected to unveil its Cybertruck at a Thursday event. The company has managed to keep the design a mystery, bar one teaser image and hints from Musk that it will look like an APC or something out of Blade Runner. Big names like YouTuber MKBHD have received invites to the event, featuring a strange streak of light. Doors for the event, hosted at the Tesla Design Studio in Los Angeles, are expected to open at 7 p.m. Pacific time with remarks starting at 8 p.m. The company has registered the new logo and name as part of a trademark filing.
Ford unveiled the Mustang Mach-E GT Performance this week, an all-electric car that starts at $45,000. The car offers 459 horsepower, 0 to 60 mph speeds in 3.5 seconds, and an expected range of at least 300 miles in some versions. Musk congratulated Ford on Twitter Monday, suggesting that it will "encourage other carmakers to go electric too."
California announced this week that it will exclusively purchase electric sedans from automakers signed up to California's clean air rules, moving away from buying gas-powered cars entirely. Musk described it as "sad" that Toyota, GM, and FCA all opposed the initiative.
Tesla solar
Was Tesla right to buy SolarCity? That's the question posed by Bloomberg Businessweek, which notes that in a June deposition Musk said that in hindsight he "probably would have let" the debt-filled SolarCity "execute by itself." Evidence suggests that the company diverted resources away from solar after the 2016 merger and toward the Model 3 sedan. Tesla is set for a trial as part of a class-action shareholder lawsuit in March 2020. The shareholders claim the $2.6 billion merger never should have happened, but Musk told the plaintiffs' lawyer during a deposition that "you're going to lose."
Getting Tesla energy installed in your house? Prepare to see this incredible selfie stick during the team's visit.
What's next for Tesla: Tesla is expected to unveil its Pickup Truck on November 21 at the Tesla Design Center, located in Los Angeles near SpaceX's rocket factory. Doors are expected to open at 7 p.m. Pacific time with remarks starting at 8 p.m.
Musk Reads mailroom
Sam Esaw writes:
Hi Guys,
Just wondering when we will hear details of Tesla electric motors installed on new (or refitted) sailboats.
It seems to me that electric powered boats would be a ideal match made in Heaven, where you get efficient, silent, reliable power without the fuel, fumes, size, weight and complexity of old gas or diesel motors.
Tesla battery and Powerwall technology would be welcome on-board as well.
Many boats already use wind, solar and regeneration systems now, but I would imagine that the new Tesla tech would vastly improve on those systems!
What progress has been made into marine applications by Tesla, if any?
Electric boats are becoming an increasing area of interest for developers. The Hinckley Dasher claimed the accolade of world's first electric yacht when it launched in November 2017. X Shore unveiled the all-electric Eelex 8000 in July 2019, capable of traveling 100 nautical miles on a single charge. Jessica Minh Anh and the Race for Water collaborated on a vessel powered by solar, wind, and hydroelectricity in September 2019.
Unfortunately, car-focused Tesla has expressed little interest in bringing its technology to the high seas. Others have explored potential future concepts, like the Tesla E-Vision GT Boat from Aziz Belkharmoudi.
Another somewhat less practical suggestion came from Musk: just use the Model S.
Joseph Lanzoni writes:
We need a [Gigafactory] 5 in Araquari…[Santa Catarina,] Brazil…near the BMW…to serve South America and Africa… more than 700 million people.
Musk has previously stated that his goal is to put a Gigafactory on every continent to reduce the price of electric cars. With factories already set for Germany, the United States, and China, where should the next factories go? Answers on a (virtual) postcard.
Got any comments or queries? Don't forget to send them over to muskreads@inverse.com.
Photo of the week
Tesla registers a logo and name for the Cybertruck.
Got a photo or video you'd like to see featured? Send it over to muskreads@inverse.com!
The Elonporium
Subscribe to Inverse Loot and learn about these deals first.
The ultra-fine print
This has been Musk Reads: Tesla Edition #123, the weekly rundown of essential reading about futurist and entrepreneur Elon Musk. I'm Mike Brown, an innovation journalist for Inverse.
A version of this article appeared in the "Musk Reads" newsletter. Sign up for free here.