CES in the 2020s? Expect VR, wearables, 5G, and maybe even space travel
As the world's largest consumer electronics show steps into the next decade, one of its organizers sees its remit expanding.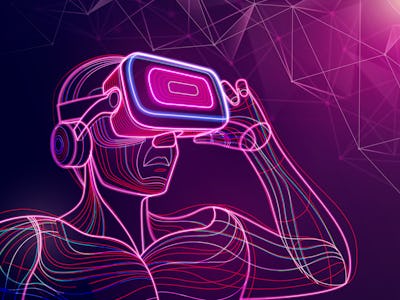 Shutterstock
The Consumer Electronics Show is entering its seventh decade of existence, and it's about to chart a bold new course in technological history — more mobile, more smart, and altogether a lot less visible.
The Las Vegas-based show has cemented itself as one of the most vital dates in the industry's annual calendar. Spanning over 2.9 million square feet, the show plays host to more than 4,500 companies.
As tech reporters descend onto the Las Vegas Convention Center, their filings paint a picture of where the industry is at. While some of these visions turn out woefully misguided in hindsight — remember 3D TVs? — a number of them capture the growth of emergent technologies, as they break out from their lab-based beginnings and flourish in the real world.
As computers weave their way into more facets of everyday life, expect CES to cover more ground in the future. That includes more autonomous cars, more input from the travel industry, and infrastructure-focused technologies like disaster prevention. At the same time, don't expect the pixel-packed TVs to disappear anytime soon.
"They'll still be there to beat down the path!" Jean Foster, senior vice president of marketing and communications for the show, tells Inverse.
Here's what the next few years looks like, through the lens of perhaps the most important show in technology.
CES 2020: emergent technologies hit the mainstream
One key focus for the show will be in travel. The CEO of Delta Airlines will give a keynote, and the firm itself is expected to launch products. CES will also dedicate a program to the area. That means a greater focus on travel technologies like smarter hotels.
It could even include controversial face scanners. Travelers may grow used to seeing them, after the U.S. government's Homeland Security department expressed support for using them in airports. As face scanning miniaturizes down to even the latest iPhones and China introduces mandatory scans for phone users, the technology demonstrates the sort of topics privacy debates may focus on in the coming years.
Another area where face recognition could play a big role is in the smart city, like with Nvidia's SAFR technology. At CES the smart city focus will be more on disaster prevention and other products, while also demonstrating the underpinnings that will make these products work.
Those underpinnings include 5G, the next-generation cellular network rolling out internationally at the moment. A key area will be in the enterprise, where 5G could offer big benefits. That includes the likes of Verizon and AT&T rolling out its network in sports stadiums, for example, giving fans a way to maintain connections when capturing the action. Sensors, cameras, and Internet of Things devices will work in conjunction with 5G to enable smarter cities.
"Those are all fundamental, integrated technologies," Foster says.
This could all help support the autonomous car. Although it's still not available for the everyman, CES has seen increased interest from firms showing what a self-driving system could do for their business. John Deere, for example, was at CES 2019 with its self-driving tractor. Unfortunately, after years of hype that pointed to an early 2020s launch, Elon Musk and others have walked back their self-driving predictions as reality sets in.
And, of course, expect to see more of the high-end TVs that have impressed CES-goers in the past. That means 8K televisions that push far more pixels, expected to ship in early 2020. It could also mean surprises like LG's roll-up TV and hidden screens.
"That's still, quite frankly, when you get the media coverage," Foster says.
One notable way with how the next show may differ from previous years is over the trade war between the United States and China. Foster says that, with a general drop in the number of Chinese nationals visiting the U.S., they "expect that [decline] to come to the show." And while the organizers expect "the big companies" to participate when the list is finalized, Foster suggests that "we'll maybe see some fall off with smaller companies because they're impacted by the trade war."
CES in the future: how the 2020s will develop
Remember virtual reality? The Oculus Rift hit stores in 2012, but required a high-powered PC. The Oculus Quest, which launched earlier this year for $399, ditches the PC and could offer wider appeal. Apple is rumored to be exploring a standalone augmented reality headset, and both itself and Google have built AR tools into their smartphone operating systems.
Expect more applications in business, Foster says, who cites interesting experiments with treating soldiers' PTSD. These applications would become more widespread as the form factor slims down and the headset is less imposing.
"I think we're going to see more of that in the travel industry, where people are using either augmented reality or virtual reality to go in and get more of the experiential side," Foster says.
That could form part of a new era for wearables. The Apple Watch has made waves, but fashion of the future could build sensors directly into clothes. That includes yoga pants that walk the wearer through a routine, or football jerseys that rumble when the wearer's favorite player gets tackled.
"I think we're going to see more of that, probably not in 10 years, probably in the next two or three years," Foster says.
Another buzzword likely to resurface is the blockchain. The digital ledger was first used to log transactions for the bitcoin cryptocurrency, but Foster sees interesting applications in supply chain management from the likes of IBM and Walmart. Another example is the NFL using it to track genuine memorabilia.
"I think it's going to be those unusual use cases that we're going to hear more of," Foster says.
Blockchain's original use case, for cryptocurrency, could also play a role. The Facebook-backed Libra project, expected to launch next year, promises an asset-backed digital token that avoids the wild price speculations of bitcoin. Big financial firms like MasterCard, Visa Stripe and PayPal have all dropped out of the project. But even if Libra fails, Foster sees something similar potentially emerging in that space.
"The concept behind that and the driver behind that which is giving some form of digital currency to people who are unbanked…definitely seems to me that there's a need for that on a global basis," Foster says.
Some areas are too hard to predict. Although it's easy to make suggestions about the future, Foster notes that she would have "never predicted Impossible Foods was going to be the breakout story of the show."
"The one that really fascinates me is the space," Foster says. "What's going to happen?"
With SpaceX and Blue Origin both pushing to make it cheaper to send objects into space, an unfathomable industry may be just around the corner.