LG Reveals 65" Rollable TV at CES 2018 That's As Portable As a Laptop
A TV you can roll up like a poster.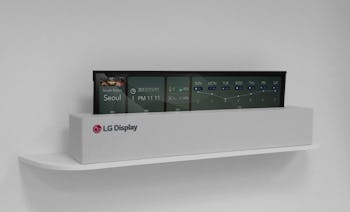 LG Electronics
LG is on a roll — or, in this case, its products are.
The South Korean electronics company flexed some of its groundbreaking TV concepts at CES 2018 in Las Vegas this Monday. The clear highlight is their newly announced 65-inch OLED TV, which would be able to be rolled up and stored away after you're done binging your favorite show on Netflix.
LG's images depict a screen that is flexible enough to be rolled up into a tight tube shape, which can then be stored inside of a box that looks a lot like an LG sound bar. This new display is comparable to a retractable projector screen, without the need of a projector.
The company also intends to make this new gadget extremely portable. Once the screen has been rolled up in to its box, consumers could carry the display to any other room in their home, making it as portable as your Macbook. This way users could buy one flat screen TV for their homes instead of having multiple in different rooms.
This is all made possible by the organic light-emitting diode (OLED) technology that LG has been pioneering over the past couple of years. These are panels that are made of carbon-based materials that emit light when electricity is passed through them, no backlight required. This makes for some extremely thin and bendable screens.
If you're looking to get your hands on some sweet new plasma screens sooner rather than later, LG also debuted a 88-inch, 8k resolution OLED TV. Neither the release date or the price have been announced, but it will be available to buy before the 65-inch rollable TV.
During CES 2016 LG announced an 18-inch screen that would be able to roll up like a newspaper. After this year's announcements it's clear that the consumer tech giant is striving to make these products available to consumers.
Until that day we'll have to keep watching our shows on our rigid, wall-mounted TVs.
If you liked this article, check out this video on how to turn your TV into a hologram projector.