'Joker 2' could be the start of a new, darker DC film franchise
The DCEU isn't going away, but the success of 'Joker' may have kicked off something entirely different.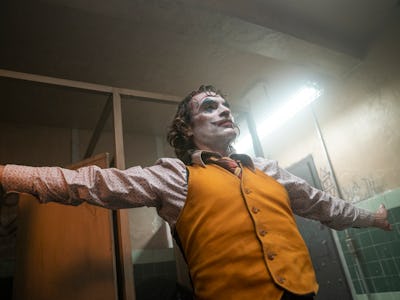 Warner Bros. Pictures
In the wake of the billion-dollar box office gross for Joker, Warner Bros. is teaming up with director Todd Phillips again, this time with a bigger plan. Not only is a sequel to Joker on the way, there may be more gritty DC origin movies from Phillips in the works. Alongside the DCEU, it seems Warner Bros. has a plan to produce alt-superhero movies that stand apart from the usual fares.
Update: Shortly after THR published its story, Deadline reported from its own sources that no sequel to Joker is currently in development. Inverse has reached out to Warner Bros. for comment, and we'll update this story when we hear back. Our original story continues below.
On Wednesday, The Hollywood Reporter reported that Phillips had a meeting with Warner Bros. Pictures Group chairman Toby Emmerich. While the specific details of the meeting are unknown (THR reports that Phillips hoped to "develop a portfolio of DC characters' origin stories," which Emmerich "balked"), the magazine reports there is a deal in place.
Phillips is "in talks" to direct a sequel to Joker and develop "at least one other DC story." This presumably means another mid-budget gritty origin narrative that reinterprets a popular icon while eschewing comic book influences.
Todd Phillips' Joker, which stars Joaquin Phoenix as a failed comedian who becomes the Joker, grossed more than $90 million domestically on a production budget of just $60 million, a fraction of most major superhero movies in the 2010s. Worldwide, the film has grossed $1 billion, and that's without a theatrical release in China. The film stylistically took more influences from Martin Scorsese than Kevin Feige, a gamble that paid off handsomely even in the same year of Avengers: Endgame (worldwide gross: $2.5 billion).
A second DC film franchise — call it a cousin franchise, sister, companion, whatever — could be WB's answer to its years-long question of how to compete against a Disney-controlled Marvel. While the DCEU is far from dead, with Birds of Prey and Wonder Woman 1984 in 2020, sequels to Aquaman, and Shazam! in place, The Suicide Squad in production, and Shazam! spin-off Black Adam with Dwayne Johnson and Matt Reeves' The Batman with Robert Pattinson far in the distance, a second series made of smaller budgeted character pieces like Joker is the perfect counter-programming to Avengers 5.
Based on the box office performance, discourse, and the "Joker Steps" in the Bronx becoming an Instagram attraction (to the ire of locals), there is clearly an audience yearning for subversive takes on familiar characters.
What character Todd Phillips will reboot is unclear. THR speculates Darkseid, a mighty alien villain from Jack Kirby's New Gods family (currently in development as a movie from Ava DuVernay), or Lex Luthor, a billionaire genius who contests Superman and, on occasion, has held office as President of the United States. But neither fit Phillips' established range; prior to Joker, Phillips scored big with the Hangover comedies. Another villain in Batman's rogues gallery, like Penguin or Riddler, would be in line with Phillips' voice.
May we suggest Kite-Man? (Hell yeah.)