First look at The Rock as Black Adam reveals a "rebellious" superhero
'Black Adam' also gets a 2021 release date.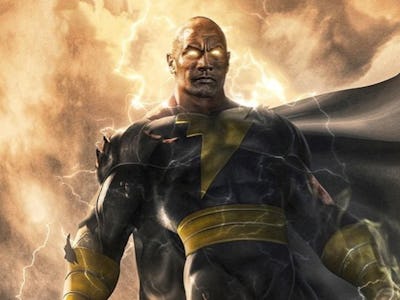 Instagram.com/therock
It's finally happening: After years in limbo, Dwayne Johnson is finally suiting up as Black Adam, the DC Comics anti-hero and villain of Shazam. The movie's due out in late 2021.
On Instagram, Dwayne Johnson shared the first look of himself as Black Adam to 161 million followers. The art, illustrated by Jim Lee and Inverse Future 50 subject BossLogic, includes an actual release date: December 22, 2021. Looks like we'll celebrate the holidays with the DC Universe.
Johnson first announced his involvement with the project way back in 2014.
In a long caption, the former pro wrestler turned Hollywood superstar explained his affection towards Superman, despite his own naturally "rebellious" personality. It is through that lens that Johnson says he found a kindred spirit in Black Adam, an Egyptian demi-god who rivals the Greek-powered Shazam (formerly known as Captain Marvel). "Like most kids growing up, I dreamed about being a superhero. Having cool superpowers, fighting for what's right and always protecting the people," Johnson wrote. "It all changed for me, when I was 10yrs old and was first introduced to the greatest superhero of all time - SUPERMAN."
As Johnson further explained:
"As a kid, Superman was the hero I always wanted to be. But, a few years into my fantasy, I realized that Superman was the hero, I could never be. I was too rebellious. Too rambunctious. Too resistant to convention and authority. Despite my troubles, I was still a good kid with a good heart - I just liked to do things my way. Now, years later as a man, with the same DNA I had as a kid - my superhero dreams have come true. I'm honored to join the iconic #DCUniverse and it's a true pleasure to become, BLACK ADAM.
"BLACK ADAM is blessed by magic with the powers equal to SUPERMAN, but the difference is he doesn't toe the mark or walk the line. He's a rebellious, one of a kind superhero, who'll always do what's right for the people - but he does it his way. Truth and justice - the BLACK ADAM way. This role is unlike any other I've ever played in my career and I'm grateful to the bone we'll all go on this journey together."
Notably, Johnson says Black Adam is a superhero, when the character's role in the comics is quite a bit more complex.
Originating as a villain of Shazam, Black Adam has become more of an anti-hero, sometimes aligning himself with the good guys when it could benefit him. The Geoff Johns/David Goyer run of JSA established that Black Adam and his human alter-ego, Theo Adam, were separate personalities, allowing Black Adam to form his own identity and become a member of the Justice Society of America.
While Black Adam is expected to explore the origin story of Toth-Adam, the nature of the DC Universe means we might see Black Adam cross paths with Zachary Levi's Shazam in the distant future.
For an explanation of Black Adam's rather complicated origin story, check out our explainer from January 2017 here.
Black Adam will be released in theaters on December 22, 2021.