'WandaVision' leaks reveal a wildly different take on the superhero sitcom 
'WandaVision' as a '50s style sitcom? Never say never.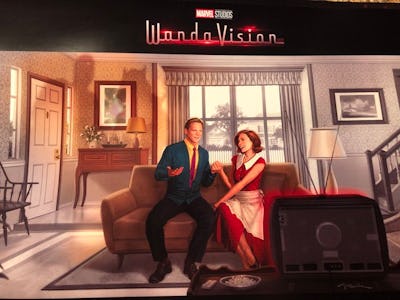 Andy Park / Marvel Studios
Filming for WandaVision is finally underway, and that means more details about the upcoming show have begun trickling out. Although the show won't premiere on the newly launched Disney+ streaming service until 2021, the series will have a deep connection with Doctor Strange in the Multiverse of Madness.
Alongside the first concept art, which teased a '50s setting, the series' ties to Marvel's Phase Four also led to fans to speculate that Scarlet Witch has somehow transformed reality. Now, a fascinating new WandaVision leak sheds more light on the show's wildly new approach to superhero storytelling, and also hints that time isn't what it seems.
👉 Follow all of Inverse's WandaVision coverage at our WandaVision hub.
A production leak from a while back seemed to hint that WandaVision would start filming earlier than expected. Now that it's been confirmed that production is underway, a leak from Murphy's Multiverse suggests WandaVision will pay tribute to I Love Lucy and other sitcoms, complete with a live studio audience.
The alleged leak claims the series "will seemingly jump through time in order to pay homage to various sitcoms, the first episode seems to be set in the '50s." That explains the concept art for the show and might actually corroborate the idea that both WandaVision and Loki will involve some sort of time travel. Additionally, the leak indicates that Kathryn Hahn will play a character named Agnes, who will essentially be "Ethel to Wanda's Lucy."
We already knew that something wasn't quite right with reality when the first poster for WandaVision focused on wholesome domestic bliss. After all, Vision died at the hands of Thanos in Avengers: Infinity War, so his resurrection for the series immediately raised eyebrows.
Based on the information we have so far, it's possible Wanda had some sort of mental break and used her powers to create this new nuclear family sitcom reality and claim the life she hoped to have with Vision. Combined with this new leak and the live studio audience detail, it all seems to point to the same thing: reality is being tampered with.
In fact, Vision got his own solo comic series in 2016, which saw him settling down in Fairfax, Virginia to start a family and live a very suburban lifestyle. (Believe me, it doesn't get more suburban than Fairfax.) Although Wanda isn't his wife in this storyline, the pair were a couple with their own child at one point.
Additionally, the House of M storyline — which saw the X-Men trying to stop Wanda from altering time — was recently teased when a casting call went out looking for babies to appear on WandaVision. In this arc, Wanda and Vision had children named Wiccan and Speed, and Wanda manipulates reality to save them. Sound familiar?
All of the evidence hints at an alternate reality, and this sitcom certainly lends credence to the theory that it's Wanda who's being set up as the next MCU villain. Ultimately, while Marvel rarely adapts comic storylines verbatim, we might see a combination of all of these story threads in WandaVision.
WandaVision will premiere on Disney+ in spring 2021.