'Doctor Strange 2' director leaked Scarlet Witch's role on Reddit in 2016
Way back during Phase Three, Scott Derrickson may have let slip Wanda's role in the 2021 sequel.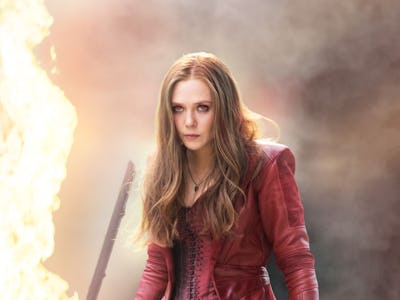 Marvel Entertainment
Remember 2016? Three years ago, we all played Pokémon GO, obsessed over how epic Captain America: Civil War was, and feared the coming election. It was simpler times. But in October that same year, Marvel director Scott Derrickson may have actually teased what was to come in Doctor Strange in the Multiverse of Madness, which wasn't publicly revealed until earlier this year.
On Reddit, user u/whipg reminded fans in the subreddit r/marvelstudios that Derrickson once actually teased Scarlett Witch to have a Doctor Strange connection in the vague, distant future of the Marvel Cinematic Universe. It happened during Derrickson's AMA ("Ask Me Anything") session in October 2016, which he conducted weeks ahead of the release of Doctor Strange.
In the AMA in question, a fan asked the director if Scarlet Witch, a magic user played by Elizabeth Olsen in the Marvel film franchise, would join the "Sorcerer Supreme" Stephen Strange as his student.
Derrickson simply replied, "Not in this movie."
How can four words say so much? Not only does Derrickson's short, succinct answer confirm something about Doctor Strange (which, again, had not yet been released at the time), but also left that possibility wide open for the future.
As one enthusiastic fan commented, "I know its not an outright confirmation, but it also isn't a hard no. Good enough for me."
For years, fans were left in the dark as to the future of Doctor Strange amidst the chaos of Avengers: Infinity War (2018) and Avengers: Endgame (2019). But finally, at San Diego Comic-Con this year, Marvel Studios and Kevin Feige pulled back the curtain on Phase Four to reveal (among other movies) Doctor Strange in the Multiverse of Madness, a sequel to 2016's Doctor Strange.
Details to the film are scarce, but what is known is that the film will notably feature the first major film/TV crossover for the MCU, as Multiverse of Madness will incorporate the Disney+ show, WandaVision, in a major way.
Based on Derrickson's comment from 2016, it seems that Wanda/Scarlet Witch may spend her appearance in Multiverse of Madness learning to refine her magical powers under the tutelage of Doctor Strange.
The film, slated for release on May 7, 2021, will again have Derrickson in the director's chair. Benedict Cumberbatch will reprise his role of Doctor Strange from a script by C. Robert Cargill.
Doctor Strange in the Multiverse of Madness will be released in theaters on May 7, 2021.