Kevin Feige may have confirmed a wild Phase 4 time-travel theory about Loki
'Loki' and 'WandaVision's ties to 'Doctor Strange 2' could complicate things in the Marvel universe.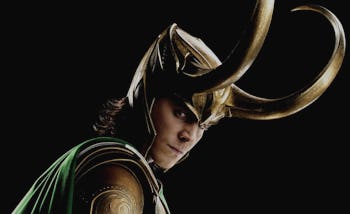 Marvel Studios
Although WandaVision and Loki won't premiere on Disney+ until 2021, that hasn't stopped fans from speculating about how each series might connect to Phase Four of the MCU. One theory has argued Loki's time travel and dimension-hopping shenanigans would turn him into the MCU's next villain, while another suggested Wanda Maximoff's grief over Vision would combine with her reality-bending powers to create the multiverse .
Marvel's chief creative officer Kevin Feige recently confirmed both series will heavily factor into Doctor Strange in the Multiverse of Madness. Did Feige just confirm time travel in Phase Four? Let's dive in.
Feige told Bloomberg both Disney+ series will play "key" roles in the story of Doctor Strange in the Multiverse of Madness, suggesting that all these time-travel theories have some merit. When asked about the Loki series' ties with Doctor Strange 2, Feige said "I'm not sure we've actually acknowledged that before. But it does [have a connection]."
There isn't much information on the plots of WandaVision or Loki yet. The last we saw of Loki, he had stolen the Tesseract and disappeared from the 2012 timeline in Avengers: Endgame. Therefore, it's possible The Avengers version of Loki will be gleefully running around in different timelines and dimensions.
The same can be said for WandaVision. Concept art unveiled at Disney's D23 Expo hinted that the series would involve a '50s style sitcom setting. Yup, in the show, Vision is alive and well, though we know he died in Avengers: Infinity War. Now that Scarlet Witch has been confirmed to appear in Doctor Strange in the Multiverse of Madness, fans have speculated that her reality-bending powers will trigger the creation of the multiverse. Did she create an entirely new reality that brought back Vision? Will Doctor Strange work to fix the repercussions of her actions in Doctor Strange 2? 
While Feige's comments don't outright confirm time travel or alternate dimensions, the likelihood that they'll play major roles in Phase Four is high. Back in August, Doctor Strange director Scott Derrickson even hinted at the Quantum Realm, which the Avengers used to time travel in Endgame, playing a role in Doctor Strange 2. "A world within a world," teased Derrickson in a tweet. Not sure about you, but that screams time travel to us.
It's also possible Feige just really wants you to watch the new Marvel series on Disney+. After all, the MCU's connections with its TV shows has always been a little tenuous and underwhelming. However, now that the Disney+ series are launching a whole new age of Marvel shows focused specifically on MCU characters, the connections between Loki, WandaVision, and the Doctor Strange sequel may just lay the groundwork for what's to come.
WandaVision and Loki will be available to stream on Disney+ in early 2021. Doctor Strange in the Multiverse of Madness hits theaters May 7, 2021.