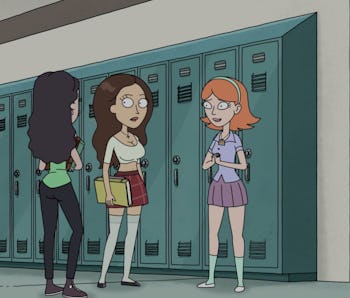 Entertainment
'Rick and Morty' Season 4 Episode 1 post-credits pay tribute to Mike Mendel
Here's what happened after Morty's big revelation.
Adult Swim
Rick and Morty fans who tune out when the credits start rolling often miss some of the show's funniest jokes, and while the post-credit scene from the Season 4 premiere does include the hilarious reveal that Morty's efforts to die in Jessica's arms were a total waste, there's also a genuinely heartfelt tribute to the show's producer Mike Mendel, who died in September.
In Season 4's first episode, "Edge of Tomorty: Rick Die Rickpeat," Morty gets addicted to using a Death Crystal to see the many ways he might die. Upon discovering one death where he dies as an old man in the arms of his longtime crush, Jessica, he sees an opportunity to finally win her over. His fixation quickly leads to Rick's death and eventually threatens the entire planet — before Rick is able to return via uploading his consciousness to a clone from an alternate reality.
The first half of the post-credits reveals that Morty's efforts were a total waste of time: Jessica decides she wants to be a hospice nurse and that's why he kept seeing a future where she comforted him on his death bed.
"I want to comfort people who are dying, who have no one else in their lives, the real lonely people," she says. "I'm gonna look at their name tags and I'm gonna say, 'I love you!' followed by whatever it says on their nametag, over and over."
Then, rather abruptly, the stream cuts to a touching tribute:
In the brief clip, we see a character drawn in traditional Rick and Morty style waiting in a blank hallway next to an open door looking out into space. A small dog walks up and flops over for a belly rub. "In Loving Memory of Mike Mendel," the caption reads. The character is Mike Mendel, a producer who worked on Rick and Morty since the very beginning.
Mendel was a four-time Emmy-award winning TV producer, and he died on September 22 at the age of 54. He won his first three Emmys for his work on The Simpsons in the first 10 seasons, and his last Emmy for Rick and Morty Season 3's "Pickle Rick." As a line producer on Rick and Morty, he helped manage production's daily operations.
"My friend, partner, and line producer Mike Mendel passed away," Rick and Morty co-creator Justin Roiland tweeted in September. "I am devastated. My heart breaks for his family. I don't know what I'm going to do without you by my side Mike. I'm destroyed."
The show's other co-creator, Dan Harmon, had similar words to share over Instagram at the time.
"Rick and Morty has lost Mike Mendel, a man that deserves a better obituary and in my angry opinion, a better god," Harmon wrote. "That opinion is a projection of my shame. I took Mike for granted. He was always needed and he was always there."
In an official statement from Adult Swim released shortly after Mendel's death, he was referred to as "the heart of the Rick and Morty production family," adding that "his fantastic talent and wit will be sorely missed."
From the fans' perspective, it's easy to understand why Mendel wasn't a recognizable name. He worked behind the scenes on the production team in the nebulous ways that producers always do. After all, a producer's job is to make sure the production runs as smoothly as possible and to improve the overall quality of the show while remaining completely invisible to the casual viewer.
"Mike was the first producer who took me under his wing and really mentored me and promoted me," one anonymous commenter wrote on Deadline's report of Mendel's death. "I learned so much in a little amount of time from him. I know many other producers and department heads whose careers really took off under his guidance."
By all accounts, it seems like most of those who knew him had similar reactions to his death.
Rick and Morty Season 4 airs Sunday nights on Adult Swim at 11:30 p.m. Eastern.