Rick and Morty's funniest writer just joined this new Disney+ Marvel show
Jessica Gao's already proven adept at writing about funny green superheroes.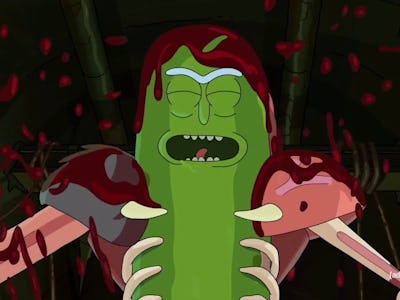 Adult Swim
Former Rick and Morty scribe Jessica Gao is getting another opportunity to write a hard-hitting action comedy featuring a green-colored superhero. Best known for writing the iconic, Emmy award-winning Rick and Morty Season 3 episode "Pickle Rick", Gao's working on the upcoming She-Hulk Disney+ series set within the Marvel Cinematic Universe.
The Hollywood Reporter revealed the news on Saturday, and it's the first detail to come out about the series since Marvel Studios head Kevin Feige announced it at D23 Expo in August.
Earlier this year, Marvel tapped Rick and Morty writer Michael Waldron to pen its Loki show. The MCU is definitely about to feel a lot more like Rick and Morty's multiverse moving forward.
In the comics, She-Hulk series protagonist Jennifer Walters is a practicing lawyer and cousin to Bruce Banner who acquires Hulk-like powers after an emergency blood transfusion that includes just a taste of Banner's gamma radiation. Rather than getting overcome with rage and smashing everything in sight while in her green Hulk form, She-Hulk retains her intelligence, similar to what we saw from Professor Hulk in Avengers: Endgame. In the comics, she almost always has more control over her powers than her hot-headed cousin.
THR describes the tone of the series as a "superheroic Ally McBeal" where Walters goes about her normal life as a lawyer, balancing her personal and professional life. Walters isn't a high-profile genius like Bruce Banner, so she'll probably come across as more relatable as she tries to live a somewhat normal life while grappling what it means to be super-powered and super-green.
Hiring Gao to lead the She-Hulk series speaks volumes to the tone Marvel Studios is going for. It sounds fun-loving and ridiculous in a way that won't shy away from the superhero action we've all come to expect from the MCU.
Marvel also hired Jeremy Slater, who wrote and developed the dark and psychological The Umbrella Academy for Netflix, to lead Moon Knight, another Disney+ series that focuses on a character that seems like the most mentally unstable Marvel hero imaginable. She-Hulk couldn't be more different, and it speaks to the tonal diversity the studio is going for in Phase Five and beyond.
In her 1980 Marvel Comics debut, She-Hulk was a more straightforward hero, essentially just the female Hulk alternative. But in later iterations, the character leaned towards meta-comedy, relishing in the visual weirdness of placing a towering, green-skinned woman in the courtroom. Hulk is traditionally a rage-fueled retelling of a Dr. Jekyll and Mr. Hyde dual personality, but She-Hulk's story is much more nuanced, funny, and clever — kind of like "Pickle Rick."
Rick and Morty's "Pickle Rick" unfolds like a glorious homage to every '90s action movie ever, nodding to hits like Die Hard, except we laugh at the ridiculousness of it all because he's a pickle with rat legs and a shoulder-mounted laser cannon built from spare office supplies.
Gao boldly straddles this line between genuinely compelling action/drama and ridiculous comedy in a way that few writers could manage, and she's a big part of why Rick and Morty Season 3 was so successful. The fact that Pickle Rick and She-Hulk share green skin feels like a hilarious coincidence.
If there's anyone that could handle a character like She-Hulk in a story that blends superhero action with satirical comedy, it's Jessica Gao. And if the show is anything like "Pickle Rick," then we have a lot to look forward to.
She-Hulk has no confirmed release date, but it should hit Disney+ sometime in 2022 or 2023 during Marvel's Phase Five.