Here's exactly when you can start watching 'The Mandalorian' on Disney+
The first ever Star Wars live-action show is almost here!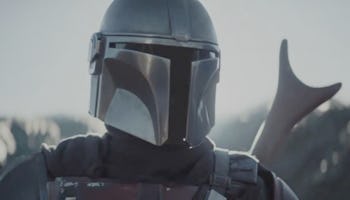 Lucasfilm
We're less than 24 hours away from the launch of Disney+ and the release of The Mandalorian, but eager Star Wars fans still don't know exactly what time the live-action show will release. In fact, there's actually some conflicting information out there right now about the show's release time. Confused? Here's what you need to know so you can start watching The Mandalorian on Disney+ as soon as humanly possible.
When isThe Mandalorian release time on Disney+?
The Mandalorian is a Disney+ launch show, with the first episode set to premiere on November 12 (the same date as the streaming service itself). That's all the company has said in any official capacity, but Disney has dropped a few other hints that could reveal one of two release times for the Star Wars show's first episode.
According to Entertainment Weekly, The Mandalorian Episode 1 will go live by 9 a.m. Eastern time at the latest, though it "also might be up earlier." However, that's not the only possible release time we're seeing right now.
According to a countdown clock on the official Star Wars website, Disney+ launches at 6 a.m. Eastern. And in case that wasn't confusing enough, according to Disney's main website, it's launching at noon Eastern time. Yes, you read that correctly, two different countdown clocks on Disney-owned websites are displaying different launch times.
Here are screenshots of both taken at roughly the same time (11:47 a.m. Eastern on November 11):
So what does this all mean? To be honest, we have no idea. If you're determined to watch The Mandalorian Episode 1 at launch you'll probably want to be refreshing Disney+ all day starting at around 6 a.m. Eastern (or earlier, who knows?!).
As for the rest of the series, we're still not sure what time Disney+ plans to release each subsequent Mandalorian episode. If we're lucky, maybe Disney will start releasing new episodes at a normal time in the evening so we don't have to spend the whole day avoiding spoilers, but for now, it's not looking good.
The Mandalorian premieres November 12 on Disney+.