Mark your calendars for 'The Mandalorian's weird release schedule
New episodes of Jon Favreau's Star Wars show will debut at irregular intervals.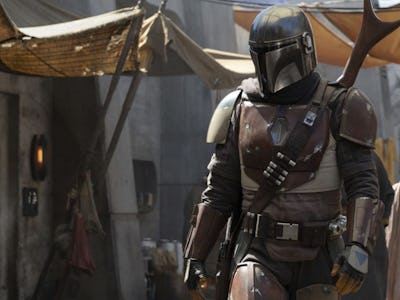 Lucasfilm
Over the weekend, a group of lucky critics in Los Angeles were shown a 27-minute preview of the first few episodes of Jon Favreau's upcoming Star Wars series for Disney+, The Mandalorian. Most of those in attendance came away pretty hyped about the show, calling it "a thrilling return to the original trilogy" and "completely amazing." Thank the maker! We were a little worried after all that talk from Favreau about the importance of CGI and "virtual production."
With the release of The Rise of Skywalker just weeks away, the next couple months are shaping up to be great for Star Wars fans. But if you're planning to catch all eight, hour-long episodes of The Mandalorian at the earliest opportunity, be aware the show has a slightly odd release schedule. It won't be like Netflix where every episode drops at once. New episodes will debut (roughly) each week, with some rejiggering to accommodate the Episode IX theatrical release on December 20. The shortest gap between episodes comes at the beginning; there's only three days between the first and second episodes. There's a long wait for the finale, with the gap between episode 7 and 8 extending nine days.
Here's when each of the eight episodes are set to hit Disney's new streaming service:
Episode 1: Tuesday, November 12
Episode 2: Friday, November 15
Episode 3: Friday, November 22
Episode 4: Friday, November 29
Episode 5: Friday, December 6
Episode 6: Friday, December 13
Episode 7: Wednesday, December 18
Episode 8: Friday, December 27
Since Disney+ hasn't launched yet, we don't know if new episode uploads will adhere to a consistent time schedule. (Netflix, for instance, regularly uploads new content at 12:01 am PT.) It's likely the first episode of The Mandalorian will be available immediately when Disney+ launches on November 12.
If you're interested in subscribing to Disney+, it will cost you $6.99 per month, or $69.99 annually if you're willing to purchase a full year right out the gate. Both of those offers will give you a free seven-day trial, during which you'd be able to cancel your subscription and not be charged. A planned $12.99 monthly bundle that also includes ESPN and (ad-supported) Hulu won't be available until November 12. If you're looking to save some cash and want to watch the whole series of The Mandalorian for free, you'll have to wait until the end of December to start that free trial.
The Mandalorian arrives November 12.