Not every Marvel or Star Wars movie is on Disney+ at launch. Here's why.
A lot of your MCU favorites are missing.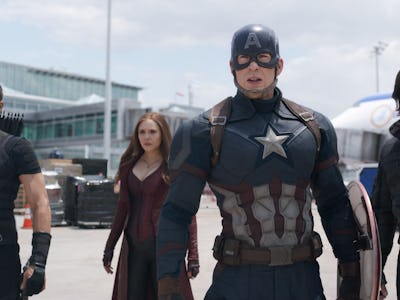 Marvel Entertainment
Following months of speculation, Disney has finally revealed every movie and TV show coming to Disney+ on day one. The House of Mouse kicked off a weary Monday morning with a long, long, long reveal thread on Twitter, posting a tweet dedicated to literally every single movie on Disney+.
But Marvel fans are worried. Because it seems as though a good chunk of the Marvel Cinematic Universe will not be on the Disney service when it launches November 12.
Disney's official list of movies and TV coming to the streaming service begins with Snow White and the Seven Dwarfs, the first Disney film, released in 1937, and continues onward into the '40s, '50s, '60s, and so forth, with every reveal happening in release order. The final tweet is the upcoming live-action Star Wars series, The Mandalorian.
But things get weird when the thread gets to 2008. While the first MCU film, Iron Man, was confirmed for the service, a good chunk of Marvel's movies are not. The missing films as of today are:
The Incredible Hulk (2008)
Captain America: The First Avenger (2011)
Captain America: The Winter Soldier (2014)
Captain America: Civil War (2016)
Spider-Man: Homecoming (2017)
Guardians of the Galaxy Vol. 2 (2017)
Avengers: Infinity War (2018)
Ant-Man and The Wasp (2018)
Spider-Man: Far From Home (2019)
Iron Man, Iron Man 3 (2013), Thor: The Dark World (2013), Avengers: Age of Ultron (2015), and Captain Marvel (2019) will be the only films on Disney+ at launch. Avengers: Endgame will stream a month later, on December 12, so you can relive the best moments in Marvel history — the portals, Cap carrying Thor's hammer, "America's Ass" — just in time for the holidays.
Why can't I stream my favorite Marvel movies?
On the surface, fans will no doubt find it frustrating that a premium subscription channel for Disney won't have every movie in the MCU. (Star Wars fans can rest a little easier, as most Star Wars movies will be on the service except for Star Wars: The Last Jedi and Solo: A Star Wars Story.)
But the reasons why are somewhat, sort of reasonable. In short, there are many existing agreements with other companies and services keeping Disney from making everything available on Disney+ at launch.
Many of the MCU movies — like Thor: Ragnarok, Black Panther, and Avengers: Infinity War — are currently available to stream on Netflix in the US and elsewhere until a predetermined date. Once those deals expire, the movies will then be available to stream on Disney+.
The first few movies in the MCU, "Phase One" as it is known, are in even murkier waters. Although Disney acquired Marvel in 2009, Marvel Studios' first partner was in Paramount, which acted as a distributor until 2012's The Avengers.
The film rights to the Hulk, meanwhile, remain with Universal Studios, which is why 2008's The Incredible Hulk will likely never be made available on Disney+. This is also why there hasn't been a solo Hulk movie in over a decade.
Finally, even casual fans are aware that Spider-Man is problematic for both Marvel and Sony. While those films share continuity with the MCU, the films remain products of Sony, which has a tight grip on all things Spider-Man. Fans saw how fragile this relationship was when talks broke down between Marvel and Sony that left Spider-Man temporarily out of the MCU.
When it comes to Disney+, Marvel fans can chill out. Most of the entire franchise, save for The Incredible Hulk, will probably end up on Disney+ in the future. It just won't happen at launch.
Forget Marvel, what about Holes?
Even if you're not a Marvel or Star Wars fan, you should know that there are gaps in the Disney+ back catalogue. Cult classics like the 1999 David Lynch drama The Straight Story, the 2003 young adult comedy Holes, the 2005 family superhero film Sky High, and the 2009 Dwayne Johnson sci-fi vehicle Race to Witch Mountain are also "missing" from the service.
And, for good reasons, the 1946 film Song of the South will not be on Disney+.
None of this is actually new. Disney has previously announced that it won't have every movie available, and only a fraction of the Marvel movies will be on the service at launch. But more movies will be added over time.
In fact, the Disney+ Twitter said as much as it closed out its long reveal thread. In a tweet, the streaming service's social team outright said there are more movies and shows to be revealed.
Disney+ will launch on November 12.