'Spider-Man: Far From Home' gave us two clues Mysterio is still alive
Did he survive to form the Sinister Six?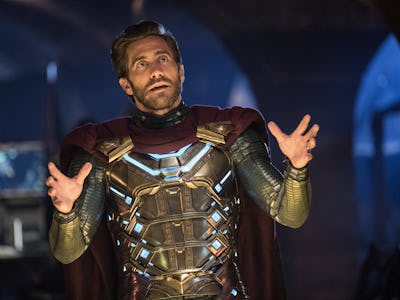 Sony Pictures
When Mysterio dropped in to help save Earth from the Elementals, Peter Parker was more than happy to hand over the title of go-to superhero, along with Tony Stark's glasses of mass destruction. After all, Peter was just the friendly neighborhood Spider-Man, not an Avenger. It didn't take long for Spider-Man: Far From Home to reveal his true intentions and two new clues have emerged that suggest Mysterio is still alive.
While it was unsurprising Mysterio turned out to be the villain in Far From Home, the final confrontation between him and Spider-Man seemed to leave little doubt that he was dead. After all, there's little chance he was able to survive a bullet to the head at such close range. Still, fans weren't convinced that he was really gone. It's fair, especially considering how relentlessly manipulative Mysterio was. He managed to convince everyone that he was from another Earth and that he was a good guy. No wonder fans are suspicious.
The first clue comes from Far From Home director Jon Watts' interview with ComicBook. Watts was cagey when asked to confirm Mysterio's death. "It's Mysterio, so who knows? He definitely seemed dead." What a way to dodge the question.
Meanwhile, executive producer Amy Pascal also told ComicBook, "You don't know" if Mysterio is permanently gone. Suspicious, indeed. Though Marvel enjoys teasing fans, they've usually been candid and upfront about permanent character deaths. After all, the studio has never teased that Tony Stark would return after Avengers: Endgame, so there's no reason to do that with Mysterio.
The second clue comes from redditor u/The_Art_Jedi, who posted two side-by-side images of Mysterio's death scene. In the first picture, Mysterio wears civilian clothing and the CGI gear that created the illusion of his suit. The second image is from the doctored video sent to J. Jonah Jameson. The difference is that Mysterio isn't wearing his CGI suit in the original scene, but it's on full display in the video released to The Daily Bugle.
Based on the evidence, it seems Mysterio faked his own death and then leaked the video to the news to incriminate Spider-Man. We wouldn't put it past him. He's a master manipulator, after all. The theorist goes on to say that "Mysterio never had time to record a video leaking Peter's identity, he'd had to have done it after he faked his death!"
We also know that Marvel has long toyed with the idea of a standalone Sinister Six movie. Remember how it was scrapped after Sony dropped all plans for an The Amazing Spider-Man 3? Yeah, well, now that Disney/Marvel and Sony are friends again, Pascal teased there's still a chance we could see a Sinister Six movie in the MCU. Mysterio is part of the villainous group, which is all the more reason they might keep him alive.
If nothing else, Mysterio proved he's enough of a mastermind to figure a way out of death. He's playing the long game, and his final act of revenge on Peter put his identity at risk and likely sent him into hiding. Faking his death also allows Mysterio time to round up the rest of the Sinister Six — Doc Ock, Electro, Kraven, and Sandman. Plus, Marvel wouldn't hire a talented actor like Jake Gyllenhaal for a one-off movie, would they? Probably not.
Spider-Man: Far From Home is available now on Digital HD. Spider-Man 3 hits theaters on July 16, 2021.