'Spider-Man' producers are actually teasing an MCU Sinister Six movie
"There may be something" with the Sinister Six, Amy Pascal teases. Whoa.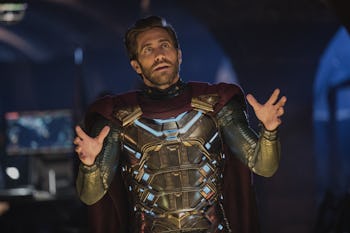 Sony Pictures
Just because Spider-Man is back at home in the Marvel Cinematic Universe doesn't mean he's safe. In a new behind the scenes featurette, Sony producer Amy Pascal teases the formation of the Sinister Six, a united team of villains who want nothing more than to squash Spider-Man. Could this be the enemy Peter Parker faces in Marvel's Spider-Man 3?
In a featurette of Spider-Man: Far From Home, shared on Reddit's r/marvelstudios by user u/a_o, producer Amy Pascal teased that the Sinister Six could appear in a future Spider-Man movie.
"These villains that we now have in our universe happen to be characters that are in the Sinister Six," she said. "There may be something that happens with that."
Not only is Pascal straight up name-dropping the Sinister Six, but she is spitting facts: The MCU has, indeed, introduced two of the original Sinister Six villains. In 2017, Michael Keaton played Vulture in Spider-Man: Homecoming, while Jake Gyllenhaal just portrayed Mysterio in Spider-Man: Far From Home.
The remaining Sinister Six villains — Doc Ock, Electro, Kraven, and Sandman — have yet to appear in the MCU.
In the comics, the Sinister Six are a rotating group of villains who unite in their common goal of defeating Spider-Man. For a variety of reasons, the team always breaks up, but not before reforming again with a few changes to the roster. Throughout nearly five decades of Spider-Man comics, villains like Hobgoblin, Venom, Rhino, Chameleon, and Scorpion (played by Michael Mando in Homecoming) have also been members.
It is well-known by fans that the last attempt at a Spider-Man trilogy, the Andrew Garfield films The Amazing Spider-Man (2012) and The Amazing Spider-Man 2 (2014) included Easter eggs that suggested the formation of the Sinister Six. But those plans were abandoned when the third movie did not move forward and gave way to Spider-Man's inclusion in the MCU.
And Spidey's very existence was in doubt just recently when talks between Marvel and Sony to renew the agreement over Spider-Man broke down. For a minute (really several weeks), Spider-Man seemed to be out of the MCU for good and would be welcomed into Sony's own disconnected universe that so far includes Venom (2018) and the Jared Leto horror movie Morbius, out in theaters in 2020.
Is a Sinister Six movie on the horizon? With Pascal herself hinting it's coming, it's safe to say that we'll one day, hopefully not long from now, sit in a theater to see a handful of villains join forces to kill Spider-Man. But until we know for sure, the Sinister Six are only a possibility, not a reality.
Spider-Man: Far From Home is available now on Digital HD. Spider-Man 3 swings into theaters on July 16, 2021.