'Zombieland 2' inspired these 6 streaming recs, including the original
There's a sneaky way to watch the original 'Zombieland' for free right now.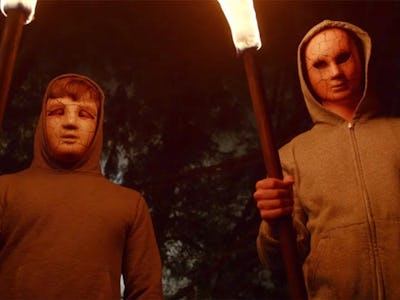 Halloween is just two short weeks away, so the spooky nostalgia has us dreaming of simpler times when M. Night Shyamalan was still good and Taika Waititi goofed around with vampires. This weekend, Zombieland: Double Tap lurches into theaters a decade after the first film alongside Waititi's weird Nazi comedy Jojo Rabbit. So there's no better time to rewatch the original Zombieland and What We Do in the Shadows (both the movie and show are excellent). There's also a gripping Are You Afraid of the Dark? reboot for fans of the original from the '90s.
Darkness? Shadows? Zombies? It's Halloween alright.
This is Multiverse, your essential source to the best streaming shows and movies. I'm Corey Plante, and here are this weekend's top streaming recommendations from the Inverse entertainment crew:
This is a recreation of Inverse's twice-weekly newsletter, Multiverse. Subscribe for free!
Celebrate Taika Waititi's Jojo Rabbit by watching What We Do in the Shadows
Everyone's favorite Kiwi director releases his latest movie this weekend. Yes, I'm talking about Taika Waititi (Thor: Ragnarok) and his new "anti-hate satire" Jojo Rabbit — which is a totally fun romp with Hitler through Nazi Germany's decline — but I really only bring it up to talk about my actual favorite Waititi movie, the vampire mockumentary What We Do in the Shadows.
Set in New Zealand, the original movie stars Waititi, Jemaine Clement (Flight of the Conchords), and Jonathan Brugh as three vampires living as roommates. Rhys Darby (Conchords) also shows up as the leader of a rival werewolf gang. What We Do in the Shadows is hilarious from beginning to start, featuring lines like, "We're vampires; we don't put down towels!" and a serious discussion about the merits of virgin blood (more sanitary or does it just sound cool?).
If you've already watched the movie more times than you can remember, it's time to check out the TV spinoff. Also titled What We Do in the Shadows, the FX series moves the action to Staten Island and features a new crop of vampires played by Matt Berry (The IT Crowd), Natasia Demetriou, and Kayvan Novak. Don't worry, some familiar faces from the movie show up too, but this new cast more than holds their own. The TV format gives the franchise more room to expand on the initial concept of modern, awkward vampires in even more detail as they explore everything from New York nightclubs to the backstabbing drama of local politics. — Jake
Zombieland: Double Tap is here to remind you that the original is a zombie masterpiece
It's hard to believe that a decade after Jesse Eisenberg, Woody Harrelson, Emma Stone, and Abigail Breslin gave us the most raucous, hilarious zombie film of the early 2000s, they're back at it again with another adventure. Zombieland: Double Tap feels like a Richard Linklater experiment in the best way possible. Despite a few mixed reviews out there, I adored the sequel perhaps even more than the first (read my Zombieland: Double Tap review here, which makes this the perfect time to rewatch the original.
From the director of Venom and the writers of Deadpool long before they made mature but silly superhero movies, the original Zombieland is the pinnacle of the zombie horror satire, celebrating the ridiculous, gratuitous violence and gore that entertains while also delivering clever comedy and loads of sarcasm. Eisenberg plays Columbus, our neurotic narrator who only survives the zombie apocalypse by following a set of rigid rules. He teams up with Harrelson's lovably crass Tallahassee, a badass obsessed with zombie killing. Their posse is complete after meeting Wichita (Emma Stone) and Little Rock (Abigail Breslin), and their chaotic adventures present a rowdy and hilarious trip across ruined America that's as fun to watch today as it was 10 years ago.
Rule #1 might be cardio, but Rule #2 is that you need to rewatch Zombieland and go see Double Tap in theaters ASAP. — Corey
Input
Hey, we're starting something new and it's going to be awesome. You should be the first to know.
Anna and the Apocalypse is Shaun of the Dead meets La La Land
If one of 2018's best movies escaped your radar, you now have a chance to make up for that gross mistake — and in the case of Anna and the Apocalypse, we really mean gross. A Christmas movie unlike any other, this bloodsoaked musical follows a group of teenagers as they sing their way through a zombie outbreak that just so happens to take place during the most wonderful time of the year.
Now available in digital formats, just in time for Halloween, Anna and the Apocalypse is a horror-comedy musical about a high school senior, Anna (Ella Hunt, soon to star in Dickinson on AppleTV+), who yearns to leave her mundane Scottish suburb after graduation. On Christmas, Anna and her closest friends find themselves trapped when a zombie apocalypse hits almost overnight.
While a "zombie Christmas musical" sounds like random word salad of disparate entertainment genres, this outrageous genre mashup has genuine heart and plenty of brains. In its novel fusion of High School Musical with Shaun of the Dead, there lies an original, inspiring story about one girl's search for independence.
In 2018, we spoke to director John McPhail, who revealed to us: "When I pitched for this film, I stated, 'I want this to be this generation's Gremlins. I want this to be that anti-Christmas movie that still makes you feel good and joyous but get that bloodlust at the same time.'" — Eric
See dead people in M. Night Shyamalan's best film ever, The Sixth Sense
There's really no better time to revisit M. Night Shyamalan's The Sixth Sense. The 1999 film starring Haley Joel Osment, Bruce Willis, and Toni Collette is a perfect mix of twisted horror and psychological thriller. The ending twist became so popular that every horror film after tried to emulate it to a certain extent. Even Shyamalan tried to recycle it in some of his other movies.
The Sixth Sense remains a potent horror classic thanks to its treatment of ghosts as misunderstood spirits who are alone, scared, and just want to be heard. In that context, death is more of a communication challenge between one world and the next than something to fear.
But that does mean this movie isn't scary. And even if you know the big twist, The Sixth Sense hasn't lost any of its luster 20 years later. From the strong performances to the psychological focus of the plot, The Sixth Sense remains one of Shyamalan's best movies. Don't hesitate to "see dead people" once again. — Mae
The best (and only?) self-aware haunted spaceship movie, Event Horizon, is on Prime right now
Science fiction movies that dip into horror are very common yet rarely good. For every Alien out there, there's also something like that movie I saw one time with Christian Slater called Stranded that felt like it was made in someone's closet. Some people would argue that the movie Life was a "good" scary alien movie, but the whole thing felt unnecessary. The point is, solid sci-fi movies that are also scary AF are hard to come by. Why try looking for some weak-ass stuff (cough, cough Nightflyers) when you can just have the real deal?
We're talking about Event Horizon, the haunted nightmares-in-space movie that gives other sci-fi horror movies nightmares. Starring Sam Neill after he did Jurassic Park and Laurence Fishburne before he did The Matrix, this 1997 flick is all about a haunted spaceship that becomes self-aware around the orbit of Neptune. Is Neptune the scariest planet? After this movie, I think you'll have a hard time saying otherwise.
Event Horizon is also a '90s movie in the best possible way. It's as inconsistent as it is original, yet derivative and comforting at the same time. In short, it's the perfect scare flick to watch before Halloween, particularly if you've never seen it. Just be warned: After, you'll probably want to find the original Paul W.S. Anderson cut, which doesn't really exist, and this may drive you mad. — Ryan
Are You Afraid of the Dark? knows you're still scared a quarter-century later
There are two kinds of people in this world: Those who raced to change the channel as soon as the creaky swing appeared on screen to announce Nickelodeon's Are You Afraid of the Dark?, and those who nestled into their couch, eager to watch things that go bump in the night. If you were that kind of adrenaline junkie back in the '90s, then you're in for more scares now that your favorite series of terrifying tales is back for a three-part special that's more chilling than ever.
In the Are You Afraid of the Dark? reboot, Rachel is the new kid in town and also the newest member of the Midnight Society after she's recruited by a group of horror fanatics with a penchant for telling blood-curdling tales by firelight. Her first task is to submit a "truly scary story" for approval of the Midnight Society, which she accomplishes by imagining up Mr. Tophat and the Carnival of Doom, where the workers have no eyes but they do have an appetite for live scorpions. As one of the society members points out, there's no harm in telling wild, imaginative tales when none of it is real — until it is.
Unlike the original, where each episode introduced a completely new world of terrors, this version relies on one continuous story, exploring more of Mr. Tophat and his creepy carnival show. Tophat is played by Rafael Casal (Blindspotting), who dazzles as a campy, flamboyant carnival specter in sparkly pants.
Whether you're in it for the nostalgia or as a way to kick off Halloween season, this show delivers on its promise to discover what scares you the most. Remember, no matter how it may seem, it's all part of the show. — Chelsea
Don't forget to subscribe to the Multiverse newsletter!