'Deadpool 2' Reviews: Critics Praise "Gleeful" and "More Ambitious" Sequel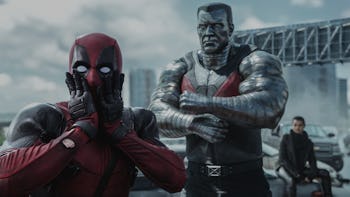 20th Century Fox
Ryan Reynolds is onto another winner. Deadpool 2, the sequel to 2016's fourth-wall-breaking action spectacular, impressed critics as reviews hit the web on Tuesday ahead of its Friday release in theaters. While many applauded director David Leitch for following up with another hilarious take on the superhero genre, others felt the joke has started to wear thin.
"Though it threatens to buckle under the weight of its meta gags, Deadpool 2 is a gory, gleeful lampoon of the superhero genre buoyed by Ryan Reynolds' undeniable charm," the critic consensus for Rotten Tomatoes reads, with a rating of 82 percent based on 73 reviews. Using the "top critics" filter produces a score of 73 percent based on 22 reviews. These ratings are almost exactly the same as the original Deadpool.
"With Reynolds' charismatic irreverence at its core, the pic moves from bloody mayhem to lewd comedy and back fluidly, occasionally even making room to go warm and mushy," John DeFore wrote in his review for Hollywood Reporter. "On the latter front, the filmmakers walk a fine line between embracing Deadpool's mock-everything appeal and needing to make Wade a credible, emotional human. Whenever it threatens briefly to slip into corniness, though, the movie regains its balance."
Geoffrey Macnab, in his review for The Independent, noted the production team's bold decision to release the film while Avengers: Infinity War is still in theaters and Solo: A Star Wars Story is due for release later this month. It's a huge moment in cinema as the Marvel Cinematic Universe finally releases one of its most highly-anticipated films, while one of sci-fi's most well-known characters is explored in Han Solo. Deadpool 2 is making a bold statement, but Macnab wonders if it really lands.
"The film has next to no emotional traction," Macnab wrote. "Ryan Reynolds plays the character with the same engaging irreverence he brought to the first feature."
Others found its release close to Infinity War as something of a blessing. Greg Maki wrote in his review for The Progress that "it's the perfect chaser for that apocalyptic adventure, bursting with the same kind of irreverent, fourth-wall-breaking humor and stylized violence that made the first film such a success."
For many reviewers, Reynolds' character shone through. Digital Spy praised the film as having "as much heart as the original, and the humour is more consistent," while CNN noted that "Reynolds is very good at straddling the occasionally serious demands of a role defined by its mostly relentless tomfoolery."
"What also impresses is the way the film manages to seamlessly switch between action, humor and heart," Andy Lea wrote in his review for Daily Star. "Comedy sequels have a very appalling track record, but this well-balanced formula ensures that there is no discernable drop in quality from the original. Deadpool 2 is a genuine marvel."
Far from wearing thin, some reviewers found the film works a lot better than first time round. Forbes states that the first film "had a fun character stuck in a rote story," whereas the second "gets both bits right." The Star described it as "even better than the very fine 2016 original, and "the best kind of cinematic entertainment" thanks to its ability to be "seriously subversive, seriously funny, seriously profane, occasionally even serious."
"The temptation might have been to go brasher yet, rather boldly, Deadpool 2 goes deeper and expands its core cast appealingly, making for a sequel that's not only funnier but more ambitious and satisfying," Emma Simmons wrote in her review for Radio Times. "Rather than simply rehashing the first film, we get a good look at the man behind the mask, so to speak, as Deadpool emerges from emotional upheaval and goes from being a lone wolf to a leader."