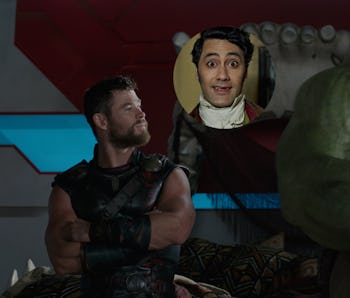 Entertainment
One 'Thor: Ragnarok' Easter Egg Had Nothing to Do With Marvel
One of the funniest and best Easter eggs in Thor: Ragnarok doesn't tease other MCU heroes or nod to a detail from Marvel comics. It instead references one of director Taika Waititi's other films: What We Do in the Shadows.
Light spoilers follow for some of Thor: Ragnarok's best punchlines, along with full spoilers for the movie's ending.
Thor: Ragnarok might be the funniest Marvel film ever, and though it's a largely standalone adventure, it still has to fit within the framework of Marvel's Cinematic Universe. As such, we get jokes about Tony Stark's tight pants and cameos from Doctor Strange and Black Widow. Waititi's humor might be darker and weirder than Marvel is used to, but that didn't stop him from referencing his past work in similarly hilarious ways.
Roughly midway through Thor: Ragnarok, the God of Thunder gears up to enter the gladiatorial Contest of Champions. Taika Waititi himself plays Korg, a fellow gladiator made of rocks that becomes Thor's companion.
One of Korg's friendly but not helpful suggestions for a weapon is a forked wooden spear (no, not a trident) that Thor dismisses quickly. Unphased, Korg admits something like, "Yeah, not very useful unless you're up against three vampires all huddled up, eh?" The reference is a bit obtuse, but considering it's Waititi himself speaking the line, it's likely a nod to What We Do in the Shadows.
What We Do in the Shadows is a 2014 horror-comedy done in the mockumentary style of The Office and Parks and Recreation, but it follows a small group of vampires living in a flat in Wellington suburb of Te Aro, New Zealand. Waititi himself plays one of the vampires, alongside Jemaine Clement and Jonathan Brugh. Together, they make quite the strange trio flirting and biting their way around town.
The line itself might have been improvised by Waititi, but we can't help but wonder: How would an alien Kronan even know what a vampire is? Does that low-key confirm that vampires are real in the MCU, and they've fought in the arena before? In the Taikaverse maybe, but perhaps not in the canon Marvel Cinematic Universe. At least not until Blade shows up.
Thor: Ragnarok is in theaters now.