Ranking the 6 Best Horror-Comedies Available to Stream Right Now
"Here lies sweet Petyr..."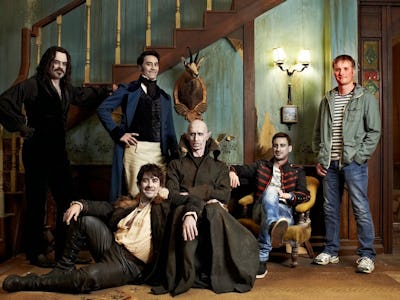 Madman Entertainment
The horror film genre is always best served with more than a little tongue-in-cheek humor, but a tried and true horror-comedy should be as fun as it is scary. An emerging genre in its own right, horror-comedy doesn't need to be "campy," but it should be.
The several major streaming platforms are sadly missing the modern greats in this subgenre like Zombieland, Cabin in the Woods, and anything from Edgar Wright's famed "Cornetto Trilogy." Shaun of the Dead, Hot Fuzz, and The World's End are arguably the pinnacle of horror-comedy. Even without those classics, there are still a lot of options out there on the most prominent streaming platforms, especially if your standards are low for some dumb, gory fun.
If you're in a certain mood, even Adam Wingard's new live-action Death Note film on Netflix can start to feel like a horror-comedy.
For the more discerning viewers pining for horror-comedy, here are six of the best movies and shows available to stream right now in the subgenre:
6. The Sharknado Franchise
Inexplicably, the literal whirlwind that is the Sharknado franchise thunders on with five movies thus far. In the first movie, a freak cyclone hits Los Angeles, somehow creating insane water spouts that scoop up hordes of man-eating sharks.
These made-for-television science fiction disaster horror comedies have taken a large bite out of a very niche place, finding real success on Netflix, where four of the five movies currently reside. (The fifth only came out August 2017.) A ridiculous premise with a modest budget and short runtime can make for financially successful investments when they amount to stupid fun. 
Sharknado 1 through 4 are available on Netflix.
5. Scream Queens
What if Ryan Murphy made a horror anthology show that intentionally tried to be funny rather than the self-serious and oftentimes confusing American Horror Story? The cancelled-too-soon Scream Queens answers exactly that question. Season 1 focuses on a sorority plagued by a masked serial killer before shifting gears to a hospital setting in Season 2. It's tasteless, silly, and plain dumb fun.
Scream Queens Season 1 and 2 are available on Hulu.
4. Tucker & Dale vs. Evil
Alan Tudyk is an absolute treasure as a genre actor, and it's made glaringly apparent in Tucker & Dale vs. Evil. He plays Tucker alongside Tyler Labine's Dale, two innocent and good-natured hillbillies that bought their ideal vacation home deep in the woods. They try to make friends with some good-looking college kids, especially the ladies, but only wind up scaring them.
After a series of practical but hilarious errors — that includes some accidental and gruesome deaths — the college kids think that Tucker and Dale are serial killers. The story ultimately amounts to a charming reason why we should never judge someone by their appearance, becomes sometimes the real killer is the nice rich guy with the popped collar.
Tucker and Dale vs. Evil is available on Netflix.
3. Little Evil
The newest dark comedy film to join the streaming ranks, Netflix's exclusive horror-comedy Little Evil stars Adam Scott as a man that just married the woman of his dreams, played by Evangeline Lilly. It's too bad that his step-son is almost definitely the antichrist.
What if The Omen was a comedy? Then it would be Little Evil, a dark and fun take that looks at the classic child antichrist horror trope through a funny lens. If anything, it's a novel idea.
Little Evil hits Netflix September 1.
2. Santa Clarita Diet
Speaking of novel ideas, Netflix's other horror-comedy series is a refreshing look at how a rational zombie might fit into regular society. Santa Clarita Diet stars Drew Barrymore as a suburban mom who somehow becomes a zombie after a vague incident. The real meat of the show is about how she's able to maintain her new "diet" while remaining part of regular society. That mostly involves the Dexter approach of satisfying horrible urges by killing the "bad" people.
Santa Clarita Diet offers a bunch of fun cameos with funny circumstances throughout that make it totally worth a watch.
Santa Clarita Diet is only available on Netflix.
1. What We Do in the Shadows
Just when people thought they were totally sick and tired of "vampires this" and "vampires that," New Zealand director Taika Waititi teamed up with Flight of the Conchords' Jemaine Clement on a mockumentary about four vampires of varying ages living together in a dingy flat in New Zealand.
There's a Nosferatu-style vampire named Petyr, a more modern interpretation of Dracula named Vlad, the uptight Viago, and Deacon, who's the 183-year-old "young rebel." He likes knitting and erotic dancing.
Any fan of Taika Waititi's bizarre brand of humor will find this horror-comedy delightful, but even hardcore vampire fans will appreciate how loyal to traditional vampire lore What We Do in the Shadows is.