Here's All the Best Cameos in 'Santa Clarita Diet'
Netflix's new zombie sitcom is home to some of the most scrumptious surprise guests.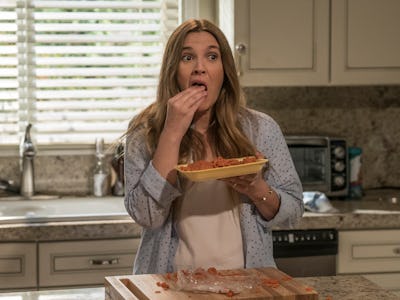 Netflix
Netflix kept a tight lid on what exactly their new sitcom starring Drew Barrymore was all about. But now that Santa Clarita Diet dropped on the streaming service, viewers can finally dig into all that the delightfully gory show has to offer. Drew Barrymore and Timothy Olyphant aren't the only ones bringing the serious horror-comedy chops, though; the show is chock full of familiar faces, so much so that it might be tough to keep track of them all. Here's who to look out for while Barrymore's zombie is on the loose in Santa Clarita Diet.
6. Thomas Lennon
Thomas Lennon — who you probably know his best as Lieutenant Jim Dangle on the Comedy Central series Reno 911! — pops up as a particularly stern object of Sheila's rage. He plays high school principal Mr. Novak who chides Sheila and Joel for Abby continually skipping school. The Hammonds' daughter would rather get into some teenage shenanigans with Eric, the absentminded next door neighbor, than go to class.
5. Portia de Rossi
If you're good enough to be in Arrested Development, you're more than qualified to be in a suburban zombie sitcom. Portia de Rossi previously appeared in Santa Clarita Diet creator Victor Frescos ABC sitcom Better Off Ted, but here she pops up as the answer to Sheila's prayers. She's first introduced to Sheila as Dr. Cora Wolf, a scientist experimenting on lab rats at the very end of Episode 9, and we find out that she may be the only hope for the zombie cure in the season finale. Her deadpan humor has never been better.
4. Andy Richter
Richter's gotta do something other than being Conan O'Brien's perennial sidekick on Conan — he's a ridiculously funny dude, and he deserves a star turn of his own. As Carl Coby, Richter is the bumbling a boisterous owner of the real estate firm where Joel and Sheila work. His relationship with Shiela is quite tense since it always devolves into Coby berating her. Chances are Sheila will make a meal out of him before the first season is over. Richter's ties to the show go beyond his comedic chops. Santa Clarita Diet creator Fresco also created Richter's Andy Richter Controls the Universe, a fan favorite sitcom that was canceled before his time.
3. Mary Elizabeth Ellis
Ellis has come a long way since playing "The Waitress" on It's Always Sunny in Philadelphia. In Santa Clarita Diet, Ellis takes on a much ruder role: a wined-up nosy suburban housewife named Lisa who lives next door to Barrymore. We're surprised zombified cannibalism hasn't made its way onto It's Always Sunny before, so it's good that Ellis can check that plot point off her performative bucket list.
2. Patton Oswalt
You can't help but have a smile plastered across your face when Patton Oswalt shows up in something, and it definitely helps that the audience has to stomach some of the grosser things in Santa Clarita Diet before he shows ups. We first see Oswalt's skeptical Dr. Hasmedi when Joel goes to him for some guidance after Sheila coughs up an internal organ. Hasmedi brings in some medical help to figure it out, but instead of bringing in someone from internal medicine to identify the rogue body part, he brings in a shrink to make sure Joel is right in the head. Oswalt's legendary off-kilter humor really sells the absurdity.
1. Nathan Fillion
Fandom dreamboat Nathan Fillion exits Santa Clarita Diet almost as quickly as he's introduced but not without leaving an indelible impression first. Fillion plays Gary West, a rival real estate agent in Shiela and Joel's office who mistakes Shiela's newfound penchant for wanting to feast on human flesh as a sign of some marital troubles between the happy suburban couple. But after he makes an unwanted move on Shiela while she's at Ladies Night with her friends, Gary becomes her first (human) meal.