Drew Barrymore Eats People in 'Santa Clarita Diet'
Not much is known about the upcoming Netflix show.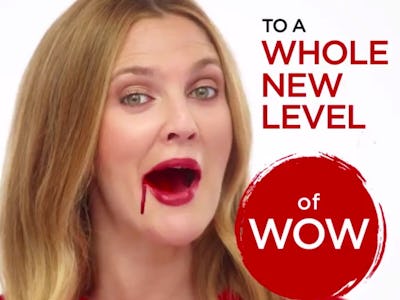 Netflix
Viewers of the Golden Globes were met with a commercial that, at first, looked like any old ad shilling the newest fad diet. Except, as it turns out, there's a dark, dark twist: the Santa Clarita Diet is people.
The gory trailer was the bloody first taste of Netflix's upcoming new series starring Drew Barrymore, Santa Clarita Diet, which is set to premiere on the streaming service on February 3. The show has had quite an interesting ad campaign so far, mostly geared towards making the show look like an actual diet, and only making subtle allusions to the true nature of the feast.
USA Today reports that Barrymore's character, Sheila Hammond, is actually a zombie. She dies in the first episode only to come back as one of the living dead. Together, she and her L.A. realtor husband Joel (Timothy Olyphant) need to find a way to satisfy her cravings for human flesh. So, it's kind of like iZombie.
Santa Clarita Diet was created by Victor Fresco, who also created Better Off Ted and Andy Richter Controls the Universe, neither of which was a huge hit. But, hey, you know how fads are — everyone might have a ravenous hunger for the Santa Clarita Diet.