'Star Wars 9' trailer 3 release date, tickets sales tipped by Fandango
It's finally (almost) here.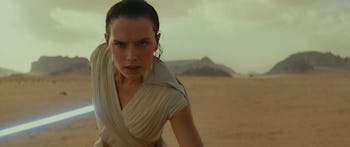 Lucasfilm
Monday night came and went without a new trailer for Star Wars: The Rise of Skywalker or the launch of ticket sales for the December movie. However, fans of the franchise remain confident that the next big reveal for Episode IX is now coming on October 21, and a new leak from Fandango may confirm that the ticket seller is gearing up for the biggest movie of the year.
Earlier this week, one Star Wars fan noticed that Fandango recently set up placeholder pages for the various Rise of Skywalker viewing options. The list includes regular 2D, 3D, IMAX 2D, and IMAX 3D, with each getting its own separate ticket page. That should theoretically help keep the service running smoothly when Star Wars: Episode IX ticket sales go live, though we're still expecting some outages as fans swarm Fandango's app and website to reserve their seats.
Here's the Fandango Star Wars placeholder page, courtesy of redditor u/Japoreanese:
What does this mean? Well, for one thing, it means you can look forward to shelling out a cool $30 to see the final entry in the Skywalker saga in IMAX 3D. It also likely means that official ticket sales are coming very soon. If history is any guide, the final Star Wars trailer will arrive during Monday night football, likely on October 21.
As soon as the trailer hits, you can expect ticket sales to immediately go live, which means you'll only have a few minutes to reserve a decent seat on opening night or risk having Rise of Skywalker's biggest twists spoiled for you.
If you're not a football fan, your best bet is to set up an alert on Fandango. That way you'll get an email the moment Star Wars: Episode IX tickets go live. (Read our guide on using Fandango FanAlert.)
As for the trailer itself, we're still not sure what to expect, but it's sure to be big. The first Rise of Skywalker teaser revealed the Emperor's return, and the second one gave us Dark Rey. Rumor has it the third could actually show old Palpatine in the flesh, but we'll have to wait until Monday night (or maybe even later) to find out.
Star Wars: The Rise of Skywalker hits theaters on December 20.