John Boyega walks back 'Rise of Skywalker' trailer 3 release date rumors
The final trailer will likely debut on Carrie Fisher's birthday.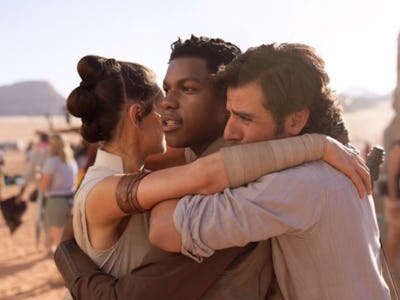 Lucasfilm
With The Rise of Skywalker just two months away from its release date, the Star Wars fan community is hungry for more information about what fate has in store for Rey, Finn, Poe, and Kylo Ren. Over the weekend, John Boyega clarified that he doesn't know when the third trailer for the film will drop, walking back claims from his agent Femi Oguns last week that the new footage would accompany Monday Night Football on October 14.
"I don't know when the trailer is coming out," Boyega told his followers on Twitter Sunday, in response to a flurry of attention following Oguns' Instagram post. "I definitely think it's soon though … I'm sure the gears are in motion!"
If the next Star Wars 9 trailer were indeed dropping later today, it seems likely the actor would have kept quiet and let the kerfuffle pass. Instead, Boyega's response seems to suggest the trailer will debut during Monday Night Football on October 21.
Fan site Star Wars News Net also claims the latest Rise of Skywalker trailer will debut October 21 during halftime of the Jets vs. Patriots game. Depending on how the game runs, this will likely fall sometime between 9:30 p.m. and 10 p.m. Eastern.
There's another reason October 21 would be a fitting date to release the next Rise of Skywalker trailer: It would have been Carrie Fisher's 63rd birthday. The final film in the sequel trilogy will mark her last appearance as Leia Organa, and we wouldn't be surprised to see this trailer focus on her role as a leader of the Resistance and a mentor to Rey. Fisher passed away in December 2016 and will appear in The Rise of Skywalker via unused footage shot for The Force Awakens and The Last Jedi.
It's also fair to expect we'll get our first look at Emperor Palpatine in the next Episode IX trailer. Dear old Sheev somehow managed to survive getting blasted with Force lightning, thrown into the vacuum of space, and blown up with the second Death Star. Will he be Matt Smith? Rey's grandfather? Connected to some kind of robot life-support mechanism? We probably won't get the answers to any of those questions come October 21.
If you're looking to get opening night tickets to see Rise of Skywalker, you might want to keep your phone or computer handy on the evening of October 21. It's likely that once the trailer drops, tickets will go on sale. While it's likely to take over most cineplexes throughout the holiday season, expect popular venues and times to sell out fairly quickly.
Star Wars: The Rise of Skywalker will be released on December 20.