'Star Wars 9' trailer 3 release date leaked by John Boyega's agent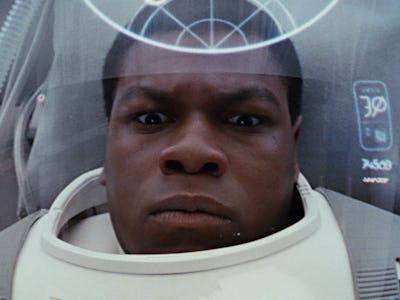 Lucasfilm
There's been a disturbance in the Force, or, more accurately, a disturbance in Disney's carefully planned Star Wars: The Rise of Skywalker marketing plan. The third and likely final trailer for Episode IX is expected sometime this month, but a very reliable source may have just leaked the exact release date for what fans have taken to calling "trailer 3" — and it's shockingly soon.
The Rise of Skywalker trailer 3 release date comes from none other than Star Wars star John Boyega's agent Femi Oguns. In an Instagram post on Thursday, Oguns shared a promotional image from Star Wars: The Rise of Skywalker with the Monday Night Football logo smack dab in the middle of it. As if that wasn't enough, the caption reads: "The next @starwarsmovies trailer out Monday. It's official."
To be fair to poor Femi, who seems to have jumped the gun and may be feeling some heat from the House of Mouse right now, this Star Wars trailer release date doesn't come as a huge surprise. Based on recent history, we were already expecting the new Rise of Skywalker trailer to debut during Monday Night Football. However, multiple reports claimed it wouldn't happen until Monday, October 21 (which also happens to be Carrie Fisher's birthday). According to Oguns, however, the trailer will arrive a week earlier on Monday, October 14.
As an added bonus, we're expecting ticket sales for Star Wars: The Rise of Skywalker to go live moments after the new trailer. So get your credit card ready, queue up the Fandango app on your phone, and maybe consider watching some football this Monday even if you're not a fan.
As for what we're expecting to see in the final Episode IX trailer, rumor has it we could get a look at Kylo Ren and Emperor Palpatine's first meeting, which is expected to take place early on in The Rise of Skywalker. However, that's just an unconfirmed rumor, so we wouldn't bet on it.
That said, every Episode IX trailer so far has included a shocking reveal. The first trumpeted Palpatine's return, while the second unveiled Dark Rey. In both cases, these Star Wars trailers raised more questions than answers. So if there's one thing you can bet on, it's that this final Rise of Skywalker trailer will be just as mind-blowing as the last two.
Star Wars: The Rise of Skywalker hits theaters on December 20.