'Rise of Skywalker' won't retcon Rey's backstory, Rian Johnson suggests
It sounds like 'The Last Jedi' isn't going anywhere.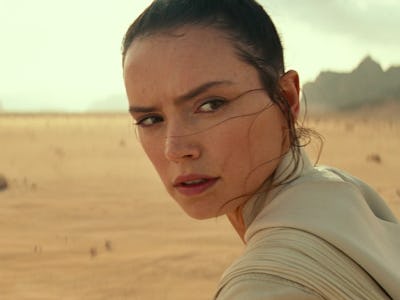 Lucasfilm
Right from the announcement of the title, it seemed Star Wars: Episode IX might reverse course on much of what director Rian Johnson established in The Last Jedi. From the title to the first trailer's reveal of the film featuring Emperor Palpatine, The Rise of Skywalker has seemed like a massive reset by director J.J. Abrams to steer the film closer to his vision from The Force Awakens. As such, it's been hard not to speculate as to how the ninth installment may find ways to backtrack on the eighth.
However, making a massive multibillion-dollar franchise is a collaborative effort. While many of Johnson's decisions in The Last Jedi may have seemed reckless, the reality is that the film was made in collaboration with Lucasfilm, Disney and Abrams. There's no way Johnson could have gone completely off-piste without their consent.
Johnson reminded fans of this during a recent Q&A at the BFI London Film Festival. He claims that the story beats of the saga have largely remained the same since his time with the franchise. "It's really been a bit unusual in that the editing process, much of what we have in the third act is exactly what we always had." Johnson says, confirming that The Rise of Skywalker will work with the story he set up in the eighth installment, rather than try to wipe the slate clean as much as possible.
Abrams has also been vocal about the extent to which he made the effort to work with what Johnson gave him. ""I never found myself trying to repair anything," he says, "If you're willing to walk away from the thing that you created and you believe it's in trustworthy hands, you have to accept that some of the decisions being made are not gonna be the same that you would make. And if you come back into it, you have to honor what's been done."
Much fan theorizing regarding the ninth installment has focused on the ways in which what Johnson did with the story, and specifically his revelation that Rey is not from a notable Star Wars family, would be done away with in favor of a big, bombastic reveal. Rey Kenobi, Rey Skywalker and Rey Palpatine have all been suggested by fans. But perhaps it's time for us to remember that some of the answers are already right in front of us, specifically regarding whether or not Abrams' film will work with what it's been given. It clearly will. Both directors have said as much and neither has given us any reason to doubt them.
And ultimately, isn't that so much more exciting? Abrams has said that Johnson made some decisions he wouldn't have made were he the director of The Last Jedi but it's so much more interesting to think about what he'll do to work with those story beats rather than how he'll undo them. If he's telling the truth here, The Rise of Skywalker is looking far more interesting and far more exciting than ever.
Star Wars: The Rise of Skywalker comes to theaters December 20.