iPhone 2022: how Apple could bring 5G, better battery use and faster speed
The company has big plans for the phone of the future.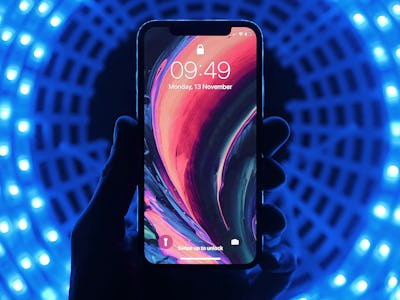 Unsplash / Youssef Sarhan
The iPhone 11 only hit store shelves last month, but rumors are already swirling about the smartphone Apple is expected to release in three years' time.
The company is expected to release an iPhone in 2022 that packs an Apple-designed modem for the first time, making a break from previous devices that used chips designed by Qualcomm and Intel. This Apple chip, expected to enable iPhones to connect to new 5G networks, could also offer better efficiency compared to previous modems. That could result in better use of battery power and faster connectivity speeds.
The news comes as Apple works to produce more chips for its smartphone and provide it with an advantage over its Android counterparts. The recent iPhone 11 features a U1 chip, the first smartphone to offer ultra-wideband connectivity, alongside an A13 Bionic processor that offers support for even faster on-device artificial intelligence. Apple's use of an in-house processor chip stands in contrast to the Android world, where Qualcomm commands most of the market share.
With the move to an in-house modem, Apple could integrate yet another component of its smartphone into its business. In short, Apple's iPhone is about to become even more Apple-designed, and that could lead to an even more efficient use of resources.
iPhone 2022: how Apple plans to make the smartphone more efficient
The efficiency savings, a Fast Company report explained Friday, would come from Apple building the modem directly into the phone's system-on-a-chip. This chip could house the modem alongside the processor and other chips. This tight integration could enable a better use of resources.
Intel had provided Apple's iPhone modems for a few years, starting with the iPhone 7 in 2016 and ending with the iPhone XS in 2018. Apple initially started working with Intel in the first place in a bid to realize this dream of a fully-integrated chip. However, the processor company regularly missed deadlines and ultimately sold its modem business to Apple for around $1 billion in April 2019.
Although Apple is expected to launch an iPhone with an in-house modem in 2022, it may not come embedded on the same chip as the processor. The publication notes that, owing to the complexity of the task, it may not arrive until 2023.
iPhone: what comes next?
Apple's move is a few years away. Before that, rumors suggest the company has plenty of changes on the way.
For 2020, the company is expected to redesign the iPhone to make it look more like the iPhone 4, eschewing the curved edges. The redesign could also tweak the screen sizes to reach 6.7-inch, 6.1-inch and 5.4-inch. It's also set to boast 5G connectivity thanks to a Qualcomm modem, and rumors also suggest it could pack a time-of-flight sensor to improve the camera.
Either in 2020, but possibly for the 2021 iPhone, Apple is also expected to introduce an under-screen fingerprint sensor. This would work alongside the face scanner to offer a new means of unlocking the phone.
As for what else might be included in the 2022 phones and beyond, it's unclear at this stage. With Apple rumored to be launching a set of augmented reality glasses, perhaps virtual worlds could become a stronger focus?