iPhone 2020: Why Apple's new screen sizes could be its best feature
Apple is aiming for a broad audience.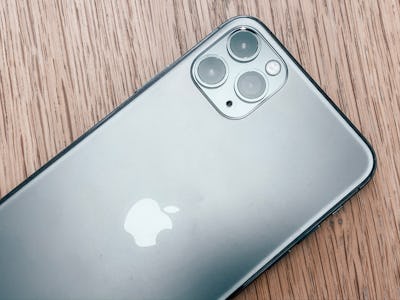 Unsplash / Jan Kolar / VUI Designer
Apple's next iPhones could be their most important yet.
Although the iPhone 11 only debuted last month, rumors are swirling about the company's lineup for next year — and it could appeal to more consumers than before. New images shared by Ben Geskin this week show Apple's rumored 2020 flagship in action, complete with a flat-sided design and tweaked screen sizes. The company is rumored to be working on three new sizes: a 5.4-inch model, a 6.1-inch model, and a hand-stretching 6.7-inch model.
They sound like small tweaks, but the new screen sizes could satisfy both consumers looking for a smaller one-handed phone, as well as consumers looking for a larger "phablet"-style device. A Morning Consult poll found in November 2018 that eight percent of smartphone owners thought current screens weren't big enough, while 55 percent said they weren't the right size and 24 percent said they were too big.
Instead of marching endlessly toward bigger screens, Apple is taking a measured approach and attracting both the 32 percent who want change and the 55 percent who are happy.
iPhone 2020: How Apple's devices are rumored to shake up
It's perhaps worth mentioning that these three Apple devices will likely appeal to those who want the latest model. For budget-conscious buyers, Apple is also rumored to launch a fourth device in 2020: a successor to the iPhone SE, which was priced at $349 before it was axed from the lineup. The new model is expected to sport an iPhone 8-like design with a fingerprint scanner, 3GB of RAM, and the same A13 Bionic chip found in the iPhone 11.
For those who want the best Apple has to offer, the next lineup could offer the answer. Here's how the current flagship lineup looks:
iPhone 11. $699, 6.1-inch LCD screen, two camera lenses.
iPhone 11 Pro. $999, 5.8-inch OLED screen, three camera lenses.
iPhone 11 Pro Max $1,099, 6.5-inch OLED screen, three camera lenses.
Here is how next year's lineup is expected to look:
An iPhone with a 6.1-inch OLED screen and LTE connectivity.
An iPhone with a 5.4-inch OLED screen and 5G connectivity.
An iPhone with a 6.7-inch OLED screen and 5G connectivity.
Beyond these changes, Apple is expected to add a host of new features. A time-of-flight sensor, designed for depth measurements, could boost augmented reality and the rear portrait mode. The new phones are expected to sport 5G cellular networks, absent from this year's phones, although analyst Ming-Chi Kuo claimed in June that this may be limited to the higher-end devices. Rumors suggest that the higher-end models will also sport a slimmer notch, but Bloomberg suggests that at least some of Apple's 2020 phones could feature an under-display fingerprint scanner alongside the face scanner.
iPhone 2020: Why smaller and bigger is better
Since the original iPhone launched in 2007, Apple's phones have been quietly increasing in size. They moved from 3.5 inches at launch to 4 inches with the iPhone 5 in 2012, and then to either 4.7 inches or 5.5 inches, depending on the model, with the iPhone 6 in 2014. When it launched the iPhone X in 2017, it kept the same size as the 4.7-inch model but removed the home button and expanded the screen to reach 5.8 inches. The iPhone XS Max in 2018 introduced a 6.5-inch screen.
This rush to bigger screens, fueled by similar movements on Android-based devices, has not been without criticism. Zeynep Tufecki, a University of North Carolina professor, wrote after the iPhone XS launch that "women like me with small hands who need the most secure phone for safety reasons are stuck with something they can't hold and constantly risk dropping."
While this takes place, other smartphone makers are marching to bigger screen sizes. The Samsung Galaxy Note 10 Plus offers 6.8 inches, the Galaxy S10 5G offers 6.7 inches, and the Galaxy Fold expands out into a 7.3-inch tablet. The OnePlus 7 Pro, meanwhile, sports a 6.67-inch screen. The flagship market is clear: bigger-than-6-inch screens are the best.
By reaching more consumers than ever, Apple could meet the request of those asking for a more manageable phone while also attracting those who want to go bigger.