iPhone 2020: Rumor Excitement Shows People Still Love Small Screens
The big screen isn't king everywhere.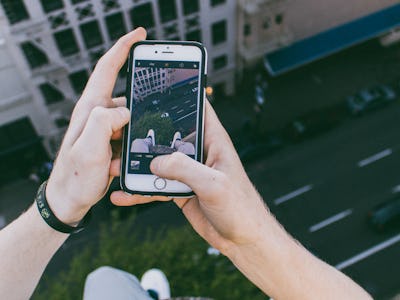 Unsplash / Tuce
Is a small, cheap iPhone about to launch? While rumors are swirling about the iPhone 11, expected to launch next week with screen sizes running up to 6.5 inches, a new report suggests Apple could launch another device with a screen that measures nearly two inches smaller.
Reports suggest that Apple will launch a 4.7-inch iPhone in the first half of next year. Nikkei Asian Review stated Wednesday that the device is seen as a successor to the iPhone SE, the 4-inch smartphone that started at $399 when it launched in the spring of 2016. Bloomberg reported on Thursday that the device would feature a Touch ID fingerprint scanner built into a home button, unlike the button-free face-scanning iPhone X and later, with a form factor similar to the iPhone 8.
The rumors have been met with warm praise from the Apple community. While news coverage has largely focused around next week's devices, the excitement around this iPhone shows that small and cheap still commands widespread appeal.
"Seriously, I just want my phone to be able to fit in my pockets," a Reddit user called "Vystril" wrote in a post about the rumors with over 3,000 upvotes. "I don't want to carry around a mini-tablet."
With the new launch, Apple could appeal to these buyers.
iPhone SE 2: Apple's Plan to Satisfy Customers in 2020
The iPhone's screen size has gradually increased over the years. The original iPhone's 3.5-inch screen was described as "big" by Gizmodo when it launched in 2007, an adjective that seems almost laughable today. Apple moved to a 4-inch screen with the iPhone 5 in 2012, and started offering 4.7-inch and 5.5-inch varieties with the iPhone 6 and 6 Plus in the fall of 2014. This appeared to be a big hit with buyers: Apple sold more iPhones in 2015 than any other year in its history, the first full year the 6 and 6 Plus were available to consumers.
But with these increasing sizes, smaller-handed gadgeteers have been left behind. Zeynep Tufecki, a University of North Carolina professor, bemoaned last year's launch of the iPhone XS and XS Max, phones that rock gigantic 5.8-inch and 6.5-inch screens: "Women like me with small hands who need the most secure phone for safety reasons are stuck with something they can't hold and constantly risk dropping."
A smaller-screened iPhone could meet those demands. While the iPhone 8 and iPhone XS have relatively the same physical footprint, the screen on the latter extends to the edges in a way that makes accessing controls and the like slightly more difficult. Users have to stretch their thumbs further to reach controls, running the risk of dropping the phone.
"That's not good for fans of smaller smartphones. That demographic isn't limited to people with smaller hands; larger devices are trickier to use one-handed, as you would while standing on a moving train or a bus, pushing a stroller or a shopping cart, or holding a cup of coffee or a beer," Rob Pegoraro wrote for USA Today.
Although it's a step in the right direction, the rumored phone perhaps won't meet everyone's requirements. The iPhone SE measured just four inches and offered an overall smaller footprint. Apple highlighted the device's thumbability with its iPhone 5 ad, a predecessor that used the same form factor:
It might not be quite the tiny-screened wonder of yesteryear, but next year's iPhone could satisfy a portion of the market sick of gargantuan screens.