'Rise of Skywalker' marketing suggests Rose will be swept under the rug
Everyone's noticed Rose Tico's absence from the new toys, but it could be much worse.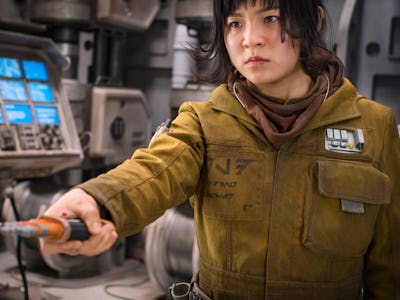 Walt Disney Studios Motion Pictures
We've seen a lot of promotional material already for Star Wars: The Rise of Skywalker, but it's becoming harder to ignore the absence of Kelly Marie Tran's Rose Tico in the marketing of the film. Rose made her Star Wars debut in The Last Jedi and, while many fans were thrilled the franchise had finally cast a woman of color in a live-action role, a deluge of harassment drove Tran off social media. Rose has a confirmed role in Episode IX. So why has she been largely absent from the promotion surrounding the film?
In late September, Disney offered Star Wars fans a preview of is holiday merch, giving us the first clue about what Rose is up to in The Rise of Skywalker. Turns out, Rose has been promoted to a military commander with the Resistance who "leads the Engineering Corps in making the necessary modifications to keep the Resistance's gear operational."
At first glance, that seems like a pretty important role in the Resistance's fight against the First Order. But let's compare Rose's new costume description for The Rise of Skywalker with that of Poe Dameron.
The description for Poe includes details about his character development and his work with the Resistance, Leia Organa in particular. In contrast, the information about Rose feels a bit more bare-bones. Rose's off-screen promotion implies that she'll no longer be as active in the field, which means she'll probably have a reduced role in Episode IX. She might turn up in some high-level strategy scenes, but she won't be racing across the desert with Poe and Finn.
This is all rather strange in light of her substantial screen time in The Last Jedi, which was capped off by a dramatic romantic gesture during the battle of Crait. She crashed her speeder into Finn's to prevent him from sacrificing himself for the Resistance, then kissed him and said, "That's how we're gonna win. Not fighting what we hate. Saving what we love." With that scene in mind, it's a bit weird that the newly released description of Rose doesn't mention Finn by name after it seemed their futures were intertwined at the end of Episode VIII.
Rose's potential absence from The Rise of Skywalker is also hinted at by the lack of new Star Wars merch featuring her character. Back in 2017, Hasbro released a number of new action figures of Rose, a reflection of her substantial role in The Last Jedi. However, at a New York Comic Con panel for Hasbro's Star Wars toys over the weekend attended by Inverse, there were no new figures of Rose at all. To be fair, some of these items won't be revealed until after the film comes out to avoid spoilers, but it's also a big clue that her role could be reduced to a few lines.
J.J. Abrams' return to the director's chair might also have something to do with Rose's apparently reduced role in The Rise of Skywalker. Rian Johnson may have given her a big role in the action of Episode IX, but maybe Rose doesn't fit into Abrams' vision. Instead, the merchandising focus seems to be on two new supporting women characters, Jannah and Zorri Bliss.
This isn't the first time officially licensed products have excluded the women of Star Wars. Remember when Hasbro released a Star Wars Monopoly game back in 2017 and left out Rey? It was an egregious oversight considering she's the main character of the sequel trilogy. Fan reactions to the absence of Rey in Force Awakens merch prompted "#WheresRey" to trend on Twitter. Hasbro cited "insufficient interest" in the character as the reason she was left out, but few fans were convinced.
We won't know anything for sure until the release of Episode IX, but all signs seem to be pointing toward a watered-down role for Rose. Considering the major part she played in The Last Jedi and her importance for representation within the Star Wars universe, it's incredibly discouraging to see her practically being erased from the franchise.
It seems Lucasfilm may be more interested in bending to the will of sexist trolls than standing up for what's right. We hope that J.J. Abrams will prove us wrong, but anyone hoping for a Commander Rose action figure and a proper sendoff for the character may want to put their wallets away now and save themselves the disappointment.
Star Wars: The Rise of Skywalker hits theaters December 20, 2019.