Sorry Trolls, Kelly Marie Tran Is Coming Back for 'Star Wars IX'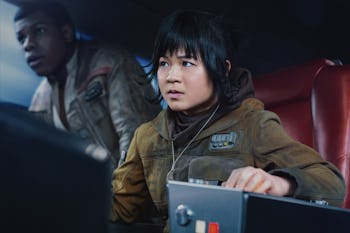 Lucasfilm
The spark that will light the fire to destroy the First Order has been lit, and guess who's coming back to let it burn?
On Friday, Lucasfilm revealed the cast for J.J. Abrams' Star Wars: Episode IX, and unofficially told racist, sexist internet trolls to eat shit as the announcement included the return of actress Kelly Marie Tran as Rose Tico.
The film begins shooting in London's Pinewood Studios on August 1, and will be released in theaters in December 2019.
Earlier this summer, Tran deleted her only few social media accounts after a harassment campaign was carried out by a bunch of racist, sexist turd-golems who hated Rian Johnson's Star Wars: The Last Jedi. Instead of being normal people and doing anything else, these internet trolls opted to berate members of the cast and crew, with Tran receiving the brunt of their efforts.
There isn't proof, but a Facebook group with the unwieldy name "Down With Disney's Treatment of Franchises and Its Fanboys" claimed responsibility for the online harassment. Given that Tran is one of the franchise's few female characters of color (she is Vietnamese-American), of course things erred on the vile side of things.
In a statement that's since been deleted, the group lamented the "forced diversity" of the franchise and sought to "Bring back the Straight White Male Hero," even though that's not a thing that can go away. But they sure wanted to make Star Wars great again. Luckily, Tran isn't going anywhere.
For Star Wars IX, Tran rejoins franchise vets like Mark Hamill, Anthony Daniels (C-3PO), and Billy Dee Williams (back as Lando Calrissian), and her fellow new era hitters Daisy Ridley, John Boyega, Adam Driver, Lupita N'yongo, and Oscar Isaac. The late Carrie Fisher, who died in 2016, will return through unused footage filmed for 2015's The Force Awakens.
Star Wars: Episode IX will be released in December 2019.