John Boyega Calls Out Racist 'Star Wars' Fans Harrassing Kelly Marie Tran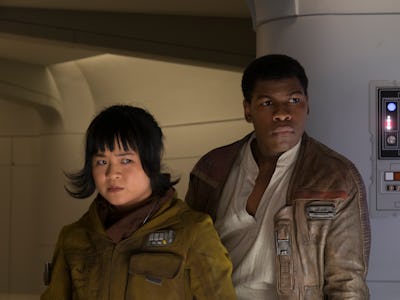 Lucasfilm
It is not the Jedi way to know hate, but many Star Wars fans have forgotten this important guiding principle. Luckily, John Boyega is here to remind them all with a harsh dose of reality.
On Tuesday, Boyega broke his silence over the social media exile of his co-star Kelly Marie Tran. The Vietnamese-American actress who starred as Rose Tico in Rian Johnson's Star Wars: The Last Jedi recently abandoned her Instagram account after receiving a flood of threatening, sexist, racist comments from a very loud minority of fans.
In a short series of tweets, Boyega condemns fans against harassing other people over creative decisions, even if they paid for a ticket.
'If you don't like Star Wars or the characters understand that there are decisions makers and harassing the actors/ actresses will do nothing," wrote Boyega on Twitter. "You're not entitled to politeness when your approach is rude. Even if you paid for a ticket! 🤷🏾‍♂️"
He then followed his message by thanking the "majority" of Star Wars fans for being kind and supportive. "To the majority of Star Wars fans thank you for supporting and putting yourselves in our shoes. You understand that there is a process so much appreciated !"
Finn has spoken. While the eighth installment of the core Star Wars series has inspired some constructive debate, there's no defense for the vocal minority who have turned their enthusiasm for Star Wars into self-assigned stewardship over a billion dollar multimedia franchise, which they have no actual legal right to, as a reason to harass real, living people. The harassment against Tran has been one of the lowest points for Star Wars fans, and for fandom as a whole.
What especially sucks is that the lessons of Star Wars are hardly nebulous. George Lucas himself has described Star Wars as a morality tale for 12-year-olds, because it reaffirms goodness over evil, no matter how cyclical the universe might feel. The Last Jedi was a bold film as it explored the moral gray in between the white and black (Rey's robes, hint hint), but it still ends with an affirming grasp of hope. It's a true mystery how 40 years of this story has been totally lost on so-called "fans."